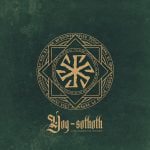 CRYO CHAMBER COLLECTIVE – YOG-SOTHOTH
Dark Ambient is a genre tag with a bit of a bad reputation – a bit like New Age's opposite twin brother. Too much church-bells and singing monks in easy arrangements have given the genre a bad name (as did too many dolphin sounds for New Age). But: don't throw the baby out with the bath water! There's a lot of interesting 'dark ambient' too – if only you know where to find it.
The Cryo Chamber label is a good place to start delving: the Oregon based label is specialised in the genre and offers many quality releases: "We portray distant worlds, dusty cathedrals, damp forests. We field record in ghost towns, abandoned subway tunnels and on dwindling mountain paths."
It's no surprise that this music of darkness is deeply connected with the work of H.P. Lovecraft, american writer of horror fiction whose work laid the foundation of the Cthulthu Mythos often referred to in all things dark and scary.
Yog-Sothoth (also known as "The Lurker at the Threshold, The Key and the Gate, The Beyond One, Opener of the Way, The All-in-One, The One-in-All") is a cosmic entity from the Cthulthy Mythos: an omniscient god, locked outside the universe, "meaning he knows and can see all of space-time all at once, that there is no secret hidden from Yog-Sothoth."

Not an entity to speak lightly of, so for this release almost the entire cast of Cryo Chamber artist are summoned for a two-hour collaboration tribute to the work of H.P. Lovecraft.
The double CD is not a compilation album, but consists of two continuous mixes involving contributions by acts like ProtoU, Alphaxone, Kammerheit, Atrium Carceri, Randall Collier-Ford, Dronny Darko, God Body Disconnect, Northumbria (and many more).
This two-hour set of dark cinematic soundscapes is the fourth in the Lovecraft Discography series, preceded by Cthulthu (2014), Azathoth (2015) and Nyarlathotep (2016).
---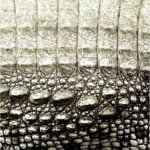 Noone knows who Noone is, because it's just the music that's important. No distraction by non-musical trivialities. It's not very hard to find out who it is if you do a little search, but I won't disclose this unknown identity who has until now self-released 10 digital ('practically identical') albums. Most are simply titled with a number, with the occasional exception to that rule. So this new release (the first physical release on the Midira Records label) is not entirely without context.
The somewhat odd title is taken from a Lewis Carroll poem (in Alice's Adventures in Wonderland):
How doth the little crocodile
Improve his shining tail
And pour the waters of the Nile
On every golden scale
How cheerfully he seems to grin
How neatly spreads his claws
And welcomes little fishes in
With gently smiling jaws!
You can take that as a warning: don't let the gentle smile and cheerful grin lure you into the claws of the crocodile! Not every drone is a soothing sound.
How Doth The Little Crocodile… is an hour-long soundscape that can be frightening at times, somewhat psychedelic even. The cinematic drones are filled with sound effects (like loud echoed slaps), strange noises and toy sounds. Culminating into a strange animal-like sound in the end, it feels as if you have descended into some underworld you shouldn't want to enter. Or like the poor little fish that finds himself in the jaws of a gently smiling crocodile.
An 'instrumental audio drama, a soundtrack for your imagination' .
---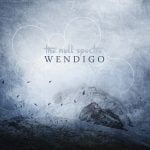 THE NULL SPECTRE – WENDIGO
Speaking about 'dark': The Null Spectre is an ambient artist (personal details unknown) from Seattle, Washington, who aims to create "soundscapes that will haunt your nightmares…".
The Bandcamp collection presents eight (self-released) albums with promising titles such as The Darkling, Lord of Shadows and Fears of Men… so you know what to expect: bleak soundtracks of darkness and superstition.
Wendigo is also created as a soundtrack for a fictitious movie full of suspense and horror. The liner notes even suggest a plot synopsis, but I think it's better to leave the story to the imagination of the listener. In a different context, the music may also turn out to be less dark and ominous than intended.
The short (25 minute) 4-track album is available as a Name Your Price download.