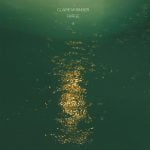 CLAIRE M. SINGER – FAIRGE  
Fairge (meaning 'ocean' or 'sea' in Scottish Gaelic) is a 21 minute composition for organ, cello and electronics written and performed by Claire M. Singer.
The piece is commissioned by the Oude Kerk in Amsterdam (the city's oldest building, now a museum), and was written especially for its remarkable Ahrend and Brunzema organ. "As every organ is unique, the piece will differ on other organs but that's what makes writing and working with the organ so fascinating."
Fairge builds up slowly, starting from the sounds of the breathing organ pipes, then introducing an almost shy cello accompaniment gradually gaining confidence and moving to the foreground. Getting stronger and louder (like ocean waves in a storm) – a massive and impermeable sound dominated by the sound of the church organ – 'a lush harmonic backdrop against the harmonics and melody of the haunting cello'.
The sound of a church organ in full power can make man feel humble and small, and so does this 'expansive soundscape full of intricate textures, rich overtones and powerful swells.'
The wind through the pipes of this organ can be precisely controlled using mechanical stop action. When the piece ends – the ocean storm retreats – one can hear the last breaths of air leaving the church pipes: the powerful dominance gone and replaced by a feeling of uncertainty that creeps back in together with the surrounding silence.
---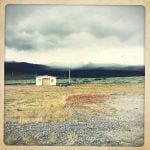 Ben McElroy has never visited Iceland himself – the inspiration came from the stunning photography by Natasha Edmondson.
'He hasn't laid out a clear concept for this short EP. Instead, he'd prefer this to be open to interpretation as you draw your own conclusions.'
It may not be Icelandic folk music, but still the stripped-down minimal folk presented here, on this 15 minute free (Name-Your-Pice) download from Audio Gourmet, conjures images of desolate but beautiful landscapes like the one on the cover image.
Sometimes close to traditional instrumental folk music, at other times drifting away into more abstract minimalism: Ben McElroy cites Pauline Oliveiros, Sharron Kraus and Ralph Vaughn Williams as some of his influences and all these can somehow be traced back to this music.
It's a refreshing step away from the ordinary, a new sound with deep historical roots.
After these 15 minutes I just wanted to hear more like this.