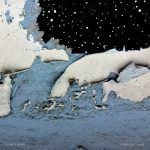 It's always refreshing to hear someone take a radically different approach to the use of the violin as the main instrument. Such is the case with this album from Jessica Moss from Montreal.
Former violinist (as well as backing vocalist, co-composer) in Thee Silver Mt. Zion Memorial Orchestra, also known for her involvement with Evangelista and her work with Vic Chestnutt, she has gained quite some experience playing live, which she now exposes in her solo performances. And on Pools of Light – her first full-length solo album (apart from the 2015 self-released cassette Under Plastic Island), presenting two four-part suites: Entire Populations and Glaciers.
It's quite hard to classify this album because it has so many different aspects: the Bandcamp tags are experimental drone, long-form narrative violin.
The opening track from Entire Populations is a striking violin piece, 'layering a maqam- and klezmer inflected theme that gradually recedes to near-silence', but from there Moss defies all conventions of the genre: introducing a vocal mantra repeating 'Entire Populations' which brings an immediate sense of doom. The experiment continues until she brings it back to a reassuring ending in the fourth part.
Glaciers opens with stacked vocal loops that sound like a siren alerting us about the state of the planet.
"My music is narrative, and I feel its subjects are already on everyone's mind: climate change, refugee crisis, plastic garbage island floating in the see."
A cinematic, story-telling piece, "moving between minimalist and maximalist, widescreen and intimate, ice and heat." But also an engaging album with a tight grasp from the beginning to the end, only loosening its grip with a lighthearted coda on a mouth organ at home.
---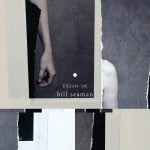 The second Bill Seaman album for Eilean Rec. presents 85 minutes in 14 pieces. Too long for a single CD, so it is presented as a limited double CDr as well as a digital download.
Like on his previous albums (F(noir) and The Seaman and the Tattered Sail with Craig Tattersall, who is also featured on this new album), Seaman builds his trademark sound from 'libraries'. Some of them he builds himself, others are made from other people's contribution: Craig Tattersall building the synth bass library, Owen Sidney Richardson the contrabass and electric bass library, Robert Ellis-Geiger the trumpet, cornet, flugelhorn library and Jonas Braasch the horn library.
All parts of these libraries are heavily edited and re-processed. The tracks are composed in "a very sculptural way" : dragging parts in,  and out, trying out different juxtapositions, editying them even more.
Hence the album title describing the process.
Through many iterations 
Seaman "fully articulates the psychoacoustic space". 
The result is a highly personal and recognisable sound: abstract, intuitive. Music that can not be reproduced in a live setting yet sounds like it could.
One question remains: "Are there any sounds from 78s in this recording?"
Personally, I couldn't tell if there are.  But I assume asking the question is answering it…?
---
If you merge a wind instrument with an electronic music device, an Electronic Valve Instrument (EVI) may be the result. This wind-controlled analog synthesizer really exists: it was invented in the 1970's but it's quite rarely used now.
Justin Walter demonstrates the beauty of this instrument on this solo album full of EVI and trumpet explorations.
It is a unique combination: the trumpet – which is so close to human breathing and singing – with the analog synth sounds. None of the music is written or composed: the basic elements were all improvised and then "either function on their own or serve as the foundation of, or source material for, additional improvisation".
The result: ambient jazz mixed with somewhat retro-sounding analog synth sounds. "Shape-shifting watercolors of pastel haze, lit by the soft synthetic glow of electric breath. It's a sound both modern and timeless, fusing emotion and technology, gauze and melody, force and fragility." 
Unseen Forces is Justin Walter's second album for Kranky, following up 2013's Lullabies & Nightmares. You may have heard Walter's EVI sound before: he also contributed to Colin Stetson's Sorrow: A Reimagining of Gorecki's 3rd Symphony.