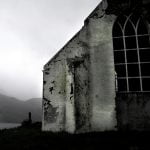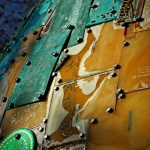 Two soundtrack albums that were originally released in 2014 as part of a subscription series of 12 albums (called the Leave Me Series). These  particular editions became so popular and were praised so much that (luckily) Lost Tribe Sound decided to (re-)release them as separate entities for those that were not able to subscribe to the full series.
The Old Believers has got quite a facelift: it contains eight extra tracks that were taken "from two other films that also center around the plight of those that are displaced and seeking refuge." (The Old Believers is a short 24 minute about Russian Orthodox Christians struggling to preserve their culture).
The Sum Of Its Parts is the score for the film by Fiona Otway, exploring "the messy front lines of the crusade to make robots part of our everyday experience.". Dealing with a theme like that, you'd probably expect some detached electronic music, but William Ryan Fritch chose to score the music for acoustic instruments: string ensemble, french horn, vibraphone and prepared piano.
There are many soundtracks in rotation currently, and not all of them do well without the movie. But Fritch has taken great care to create albums that stand on their own even when you haven't seen the movie it was made for. His musical style, string arrangements and album production can immediately be recognised and is different from most of the large-scale productions. A somewhat more abrasive sound than usual, perhaps? It's hard to describe, but once you listened to one of his soundtrack albums you'll know the difference. (I almost wrote that they were somewhat more lo-fi but this is not what it really is because it doesn't do justice to the carefully orchestrated details).
I have no idea how it feels for those that paid their good money for the subscription series (probably assuming they were 'exclusive'), but Lost Tribe Sounds did right to release these two on their own. After all, not everyone has the funds (or is willing to take the risk) to subscribe to a full 12-part series. And these soundtracks are too good to be available for the happy few only.
BTW: don't look for physical editions: there aren't any. The original Leave Me Series was a mixed-media package, but these two titles were (and are) digital downloads only.
---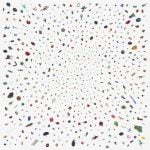 BEN LUKAS BOYSEN & SEBASTIAN PLANO – EVERYTHING  
Many of the contemporary classical albums are created as movie soundtracks. Or are used in movie soundtracks, even if they weren't specifically composed for that purpose. With the gaming market getting bigger and bigger, the soundtracks for (online) games became a more serious matter.
We've seen quite a few examples of great game soundtracks in the past. And now Erased Tapes surprises us with the soundtrack for Everything: an interactive world for you to explore at your choosing.
"Whether you decide to take the role of a microbe inside a plant in the desert, or a star in the furthermost galaxy, each layer of the game is coated with ambience which takes the simulation even further into the limitless boundaries of each world."
The multitude of possibilities you can choose from is reflected in the soundtrack: the digital version contains 43 full tracks – a massive three hours and ten minutes.
The vinyl and CD counterpart of this release is a compilation of 10 tracks, but the purchase also contains a download code to download the full-length digital release. Additionally, the clear vinyl version also comes with a game key to give you free digital access to play the game.
Talk about a multimedia release!
Ben Lukas Boysen and Sebastian Plano have been working together on this atmospheric soundtrack, which not only heightens the atmosphere of the game you're playing, but does exactly the same when played without playing the game.
Composing for games is quite a challenge. Unlike movies, most games do not follow a linear path. So the music has to follow the player's choices.
"Every element depends and builds on another and connects to previous and following songs. May it be on a compositional or on an abstract and conceptual level, the game and the music follow the same path and shares almost the same inspirational DNA."
Unlike many other games, Everything (the game) has no specific goal to achieve: "there is no purpose other than just being."
"This concept gave us wonderful freedom in searching for sounds and ideas that would fit the game. Throughout the score there is a subtle level of drama which gives depth to the game, yet the music never becomes predominant taking the player away from the main experience of being anything."
Of course, fitting the game is not an issue if you're not playing the game but just enjoying the music. It simply has to fit your mood. On its own, it automatically becomes sort of 'predominant'.
But, with three+ hours of great music that can be played in random sequence if you like, I guess there's enough 'subtle level of drama' to give depth to your listening pleasure.
---

It doesn't happen often, but sometimes you feel you're gonna love an album when you hear the first notes of the opening track.
Kryshe's Queen's Court did this for me. The lush trumpet sound, accompanies with the ambient synth layers… I immediately felt I was in for a treat.
March Of The Mysterious is Kryshe's second album, following up Insights released on Unperceived Records earlier this year. German multi-instrumentalist Christian Grothe plays piano, brass, guitar and percussion ("with a hefty dose of electronic processing") on this album built from music created to accompany the 1915 silent film Alice in Wonderland:
It helps creating an atmosphere to know this (you could've guessed from some of the titles too), but there's no need to watch the 1915 film when listening to the music: it works very well without the movie. Possibly because Christian Grothe "was keen to bring some of his live performance techniques into the studio", resulting in an album "blurring the lines between composition and improvisation, spontaneity and deliberation."
KRYSHE – MARCH OF THE MYSTERIOUS