MICHEL BANABILA – DISSOLVE
(AMBIENTBLOG EXCLUSIVE!)
Ambientblog is very proud to present this exclusive download from Michel Banabila: a 38 minute soundscape created for Gerco de Ruijter's installation called Dissolve. 
Dissolve  is an installation by landscape photographer and filmmaker Gerco de Ruijter, showing landscape images filmed in the Alamosa Valley, Colorado, near the Great Sand Dunes. The shore of the mountain lake is shown in time-lapse images of one full day, from early morning darkness to nightfall, comprised into 4 minutes.
Using animation technique, the reverse image is added, so the mirrored landscape changes position with the real at about three-quarters of the movie. From there, the next sequence starts in mirrored mode until it is swapped into its original mode. This way, the images are shown in endless succession.
The landscape and its mirrored image are tilted 90 degrees, so 'form and landscape are interwoven in a poetic, abstract experience'.
Dissolve was premiered on the Holland Animation Film Festival (HAFF) in March 2017, as part of the Expanding Animation exhibition, presenting installations that combine animation, film and fine arts.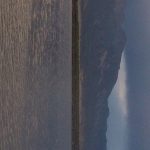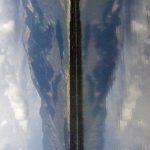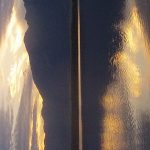 (click images for full size)
Because the tilted landscape image is detached from its natural context the eight minute installation can induce a meditative state which is deepened by the soundscape Michel Banabila created especially for this installation. The length of the film (8 minutes) is different from that of the soundscape (38 minutes), so the soundtrack is slightly different with every iteration of the loop.
Banabila's Dissolve soundscape reminisces some of Brian Eno's generative works: repeating notes that appear at irregular intervals, embedded in multi-layered drones and deep rumbling sub-bass sounds. Indeed: 'music that is as ignorable as it is interesting.' It's a soundscape one can lose itself in, an atmosphere enhancer that can be put on repeat – and thus it's a perfect companion to De Ruijter's detached landscape stills.
One could argue that this is not a 'characteristic' Banabila piece: he never before, to my knowledge, released a full-album-length ambient piece like this. (Until now, his X-Rated Manggha Mix was the longest ambient track with its 18:24 minutes).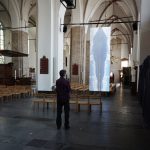 It seems Banabila feels at home in whatever style he choses: in his works for films, dance and theatre, his more ethnic oriented collaborations, his present day focus on more experimental electronics, ánd in long-form ambient soundscapes.
The Dissolve installation is not the first time that Gerco de Ruijter and Michel Banabila worked together: many of Banabila's album covers are graced with stills from de Ruijter's aerial landscape photography. Float, and the recent Sound Years  are fine examples.
They also produced various other film and installation pieces together, like Crops, Grid Corrections and Ringdijk/Dike-Ring.
(An overview can be found here on this Banabila Blogpost)

(Video from Gerco De Ruijter's VIMEO collection)
Michel Banabila's Sounds For Dissolve can now be downloaded (for FREE) in lossless formats from Bandcamp.
Including a set of still images from the installation by Gerco De Ruijter
Please note that this download is intended for personal use only.
For non-personal and/or commercial use such as radio-broadcasts, soundtracks or any other kind of publication, please contact Michel Banabila (music) or Gerco de Ruijter (video stills) first.