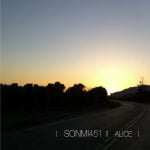 SONMI451 – ALICE
From Belgium comes Bernard Zwijzen's Sonmi451, named after one of the main characters in David Mitchell's novel "Cloud Atlas".
Ever since 2005 Sonmi451 produced a steady stream of albums (some of which you may already know from this blog).
Alice is his 11th full album, this time self-released and available from Bandcamp only.
With a title like this the association is obvious and that is confirmed by titles like I Didn't Know That Cats Could Grin or How Queer Is Everyting Today. Step into the wondrous world of Lewis Carrol's Alice In Wonderland to enjoy a beautiful and colourful world where not everything is what it seems.
The tones are soft and warm, the music is adventurous yet without threats. A place you will want to dwell in, especially with the Japanese 'Alice' (soft whispered fragments from works of Haruki Murakami) guiding you through the enigmatic and colourful landscape to make sure you don't accidentally step on something delicate and vulnerable.
---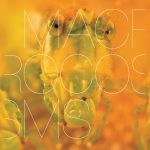 MICHEL BANABILA & MACHINEFABRIEK – MACROCOSMS
Their fourth collaborative album shows Michel Banabila and Machinefabriek in a playful mood, somewhat less abstract than on their previous album Error Log.
Macrocosms radiates the joy of swapping sound files and surprising each other in turn with an unexpected twist of the material: field recordings from the Biala Woda nature reserve in Poland, musique concrête, noise, ambient, 'fourth world' samples, 'Holger Czukay style' sped up guitars, and whatnot…

"The overall theme deals with the macro and micro – how incredibly tiny and insiginificant we become when zooming out, and how wondrous small worlds can be found within ours when zooming in." 
Michel and Rutger are a perfect pair: two giants of Dutch experimental music, combining the best of many worlds. Abstract experimentalism, cinematic romanticism, impressionistic environmentalism… it's all in the details that merge into a recognisable trademark style and manages to surprise with every new release.


---
MACHINEFABRIEK with ANNE BAKKER and EDITH KARKOSCHKA – CRUMBLE
The first few minutes of soft strings and electronic are a misleading introduction. After three minutes the music suddenly turns into a frightening bombardment of noise particles that lasts for more than 10 minutes. Only if you brace yourself you will hear the details within that sonic storm.
At the end of that sequence – almost unheard from the back of the noise wall – a new theme is introduced. The storm dies down, and is followed by a calm section featuring spoken words and poetry by Edita Karkoscha. The piece ends with an even calmer part where violinist Anne Bakker takes the lead.
Rutger 'Machinefabriek' Zuydervelt has worked with Anne Bakker before (memorable releases like Deining and Halfslaap), but Crumble is quite different in nature and concept.
This is not an 'easy' piece to listen to; it requires full attention before it releases its rewarding secrets.
I have been wondering what Machinefabriek was actually trying to achieve here, with the dramatic turns and the enormous contradictions within one single piece.
I thought of the (unintentional) conceptual resemblance with Irreversible, Gaspar Noé's unforgettable movie that starts with a shocking climax and from there tells its story in backwards, reverse-chronological, order.
The movie's tagline: "Time destroys everything" –  ultimately, everything will start to crumble.
---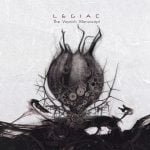 Roel Funcken (core member of Funckarma and prolific Dutch musician, producer and DJ) has teamed up with Cor Bolten (member of the legendary Dutch art-wave band Mecano) to form Legiac.
This their third release: preceded by Mings Feaner (2007) and The Faex Has Decimated (2015, parts of which were recently remixed on this album).
The Voynich Manuscript has found a home on the Dronarivm label – a quality indication in itself.
Legiac's soundscapes are described as 'mildly glitch-infused, modular explored sounds, weaving in ambient textures, field recordings and vast soundscapes.'
The title(s) are taken from a 15th century hand-written and illustrated codex – a mysterious text that raises a lot of unanswered questions about its content. You'll have to use your imagination to link the music to tis 15th century mystery, because it's not exactly mediaeval music you're listening to. But they are mysterious in their own way.
The Voynich Manuscript combines 21st century soundscapes with subtle retro analogue sequencer sounds, merging the skills and experience of two prolific and experienced experimental artists.