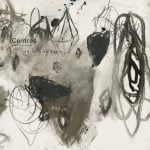 IAN WILLIAM CRAIG – CENTRES
Ever since William Basinski transformed the sound of deterioration into sonic art, it has become part of the experimental mainstream – along with distortion and carefully arranged clicks and cuts.
Although I am old enough to recognize the nostalgia of analog hiss and vinyl crackle, I often get confused hearing intentional sounds that I have tried to avoid for a large part of my life (and for a large part of my budget). Too often, the result is that too obvious presentation of imperfection simply becomes irritating.
But, like Basinski, there are also artists that take things to a completely different level. Ian William Craig is one of them.
He's a trained operatic vocalist with a beautiful voice, an orchestral composer capable of writing heartfelt arrangements that could easily become anthems for a whole generation. If only …
Play his music for an unprepared audience and eyebrows will definitely be raised!
"(Centres) was created using a mixture of sources – synthesizer, Hammond organ, guitar, accordion, wire recorder, loop station, Craig's array of re-purposed tape decks and "cassette choir". The songs were created manipulating tape loops through two or three decks at once to create strange deteriorating delays with different colors.
"Everything was manipulated through my customized tape decks," explains Ian. "The most common hack is putting attenuators on the heads to keep them from functioning properly, and then running a loop of tape through so the sound builds and builds and spills over. Sometimes the same tape loop goes through two or three decks at once to create strange deteriorating delays with different colours."
Continually honing and pushing this process, the album shows a quite brilliant attention to textural detail. Morphing, swirling, scouring, shimmering, it continually expands and contracts around you."
Centres is Ian William Craig's ninth album (!), his third official release (and his first on the 130701 label). Compared to his earlier work, there is a bit more emphasis on song structures – the vocal arrangements (like in Purpose (Is No Country) and Arrive, Arrive) are moments of rest in the sonic sea of decaying sentimentality.
To demonstrate the impact, compare the albums opener Contain (Astoria Version) – a 10 minute piece with an anthemic instrumental second half that most artists would've probably placed as a climactic album closer – with its introvert counterpart closing the album: the 'campfire arrangement' (solo vocals and acoustic guitar) of Contain (Cedar Version).
Same song – different parallel universe.
Craig pushes 'the beauty within degradation and deterioration' to an extreme level. Só extreme that it becomes the aesthetic of the fundamentally distressed. It's not an easy listen, because it requires full attention. The listener cannot simply 'consume', but has to work to uncover the beauty underneath.
Ian William Craig would probably be capable to write and perform the near perfect pop song. But why would he? Perfection is boring – true beauty is found in imperfect details.

---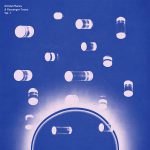 VARIOUS ARTISTS – ORBITAL PLANES & PASSENGER TRAINS VOL. I
Some of you may remember that the Serein label started out as a netlabel way back in  2005, giving away a lot of music for free. (Check this Folio Broadcast if you're interested in a mix of Serein music from 2005-2007).
After the label founder Huw Roberts teamed up with (Deaf Center's) Otto Totland to form the near-legendary Nest, things got serious and Serein re-emerged as a 'real' label. (I don't mean to imply that netlabels aren't serious, of course: what I mean to say is that with the Nest release, Serein must've realised that they were giving away gold for free. )
The label "predominantly focusses on crossover ambient styles", but refuses to limit itself to any one genre.
This is perfectly demonstrated in this compilation, presenting 75 minutes (16 tracks) of "the finest Serein selections". It's a wide range of 'crossover ambient' styles, that somehow perfectly match together.
Intended to soothe you during your daily commute – "making your journeys as pleasurable as can be" – but of course it can also be enjoyed from the comfort (and relative safety) of your home.
A beautiful selection of (all new?) tracks from artists that have worked with Serein before but also some names that are new to the label: Otto A. Totland, Brambles, Ametsub, Benoît Pioulard, Strië, Donato Wharton, Yui Onodera & Chihei Hatakeyama, Olan Mill (and this is not the complete list!).
It will make you look forward to the upcoming Serein releases.
Ánd to Volume II of this series!
Release date: August 19, but can be pre-ordered here.
STRIË – 87 BILLION SUNS
---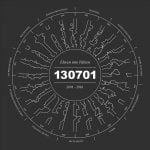 VARIOUS ARTISTS – ELEVEN INTO FIFTEEN
130701 started as a Fat Cat sublabel 15 years ago: the label name is in fact the date it came to life with the first Set Fire To Flames album.
Since then, it has become one of the most influential labels in various areas of modern classical music – home to many influential and, by now, well-known artists.
After a three year hiatus the label re-emerged at the end of 2015, and now it celebrates its 15th anniversary with this impressive compilation of unreleased work by some of their familiar artists while at the same time introducing some new names.
Eleven tracks – as you might have guessed from the title – that prove the power of the label curators: there's a range of modern classical styles – from melancholic piano compositions to abstract string drones – but also some tracks that fall outside of this categorisation yet perfectly blend in.
All tracks are exclusive and previously unreleased, which instantly turns this into a not-to-be-missed release for fans of Max Richter, Jóhann Jóhannsson, Hauschka, Dustin O'Halloran, Set Fire to Flames, Sylvain Chauveau. Ánd for the 'early adopters' that are already familiar with Ian William Craig, Emilie Levienaise-Farrouch, Dmitry Evgrafov, Resina and Olivier Alary.
The album title might as well have been Sixteen into Fifteen, since it comes with an added bonus called "New Blood" – presenting 5 extra tracks by artists that have recently published music on 130701 or will do so in the near future: Emilie Levienaise-Farrouch, Dmitry Evgrafov, Olivier Alary, Ian William Craig and Resina.

The limited CD version of this bonus were distributed in UK indie stores but quickly sold out but is now a free download with every purchase of Eleven Into Fifteen. It can also be obtained separately – but in fact I cannot think of a good reason why you'd want to do that when you get it for free with the Eleven…  compilation.
OLIVIER ALARY – YANGTZE