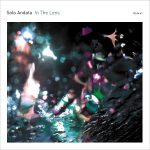 It has been quite a long wait for the follow-up of their Ritual album from 2010, but here it is: In The Lens, the fourth full-length Solo Andata album.
Kane Ikin and Paul Fiocco always had a somewhat different approach to creating their music: 'They prefer near-broken acoustic instruments, cheap microphones and tend to turn anything they can get their hands on into a beautiful sound-making object'.
A description like this usually suggests a 'lo-fi' recording but this music is far from that, the 'simple' instruments and objects are manipulated into a rich, subtle and layered sound. Abstract music with a jazzy late-night feel – 'swathed in a dusty, narcotic haze'.

"Dark, swaying, almost-looped melodies from piano, woodwinds and horns wrap themselves in smoky obscurity around remnants of percussion and warm beds of noise and the world around us."

In The Lens was created with 'recordings found in the interstices of decades-old hard-drives, lost email threads from disused accounts, and forgotten samples recorded on cassette dictaphones',  reworked and combined with newer elements to create an album with a unique sound and atmosphere.
---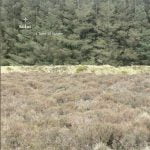 CLAIRE M SINGER – SOLAS
Solas (meaning Light in Gaelic) is the debut album of Claire M. Singer.
In her case, the 'debut' is a double CD (plus a beautiful 15 minute bonus download track called Aisir), released on the Touch label, and presenting an overview of 14 years of her work in acoustic and electronic composition.
She writes for cello and electronics, solo electronics, organ and cello and solo organ.
Some of the pieces are recorded in the Union Chapel, London (where she is musical director), resulting in a warm sound. Some others are mysteriously linked to Scottish roots (recorded in Aberdeen) – and while they are not exactly 'traditionals', they definitely breathe a mysterious and dense atmosphere – such as The Molendinar (commissioned to celebrate Glasgow's Molendinar Burn Project, and Eilean (for cello, piano and violin – featuring fragments played by Scottish fiddler Paul Anderson).
CLAIRE M. SINGER – EILEAN
---
DEREK PIOTR – DRONO
A drone is not a drone…?
Rather than focusing on a single, slowly moving chord stretched to infinity, Derek Piotr's drones are 'built on harmonic centers, but they feature variation, movement and depth that transcend the limits of drone's singularity. Rather than emphasising static monotony, each composition is a subdued journey through shifting moods and textures.'
And there is a lot of variation to be found here. Compare, for instance, the almost industrial sound of the opener track Sound to the 'choir of automata' on Rivulet to Gulf. Or with Lakes, a twelve-minute track composed entirely from Maja Ratke's spliced voice.
The human voice is a source of inspiration for Derek Piotr, who worked with artists like Scanner and AGF and served as an intern to Meredith Monk. But not just the voice: most of the tracks on this album are named after bodies of water. Even if you thought otherwise: Sound is 'an archaic term for swimming, now used to describe coastal waterways', and the album title Drono is also Malagasy for 'wash'.
Orders from the album from the Line (Bandcamp) shop also include two bonus download tracks by AGF and Stephan Mathieu.
DEREK PIOTR – SHALLOWS