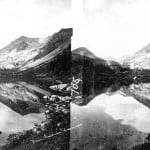 KASSEL JAEGER, STEPHAN MATHIEU, AKIRA RABELAIS – ZAUBERBERG
The idea of this trio collaborating simply was enough for me to decide to order it blindly. The unique unprecedented format (digital download + 2.5 cm Debussy pin) also helped. But with or without pin, digital or vinyl edition… in the end it's the music that counts. And with the likes of Jaeger, Mathieu and Rabelais, it's no surprise that it's a big surprise.
From Jaeger's notes we learn that Zauberberg is inspired by Thomas Mann's 'The Magic Mountain':
"…an idea not driven by the narrativity of the book, but by the traces and the aura invoked in it. That was it: an audible auratic journey trough the memories of a place lost in the heights of the swiss mountains.
A century after the events depicted in the book, we went where the story took place, trying to capture the remaining sounds that could have been heard at the time, and the ghosts who might have still wandered around. Zauberberg is based on these captures, on recordings of the music played by Hans Castorp (the novel's main character), on acoustic/electronic instrumentation and digital processing."
The result is a magical, almost psychedelic, journey into spheres, evoked by worn-out classical recordings (from Debussy's Prélude à l'après-midi d'un faune', played on a a mechanichal gramophone), slowly taken over by environmental sounds recorded at Davos, Switzerland, merged with soundscapes and sparse piano notes.
A meditative, ethereal ambient symphony!


---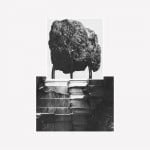 KEVIN VERWIJMEREN – THOSE GLORIOUS HEIGHTS
Kevin Verwijmeren, a 24 year old science student living in Delft, Holland, has been creating music since 2013. Since then his name keeps popping up, his work received positive reactions, and American movie director Maazin Kamal asked him to write the score for 'The Wolf and the Wayfarer'.
His new album Those Glorious Heights establishes his reputation. There are eight tracks but they are continuously mixed so this feels like one single composition (or maybe two if you play the vinyl). The music was recorded in Reykjavik, Brussels and Delft
There is a beautiful storytelling flow in this 'landscape of sound', a 'musical cocoon' in which to dwell a while 'to break the daily routine and accept the dark side of life.'
The album, which was mastered by Stephan Mathieu, is a available in dark green or black edition vinyl, including a download code. Of course there is also a digital-only version.
---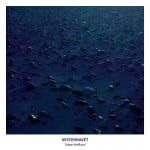 TOBIAS HELLKVIST – VESTERHAVET
A lot of the previously released albums of Tobias Hellkvist were relatively short drone pieces. Vesterhavet is his first full length album (51 minutes) since his Home Normal releases from 2010 and 2012.
I'm not sure what the title refers to. In the Danish language it is used to refer to the North Sea, but  Hellkvist is a Swedish composer… Still I guess we can safely assume it's about the North Sea (if not: please comment).
And it's a pleasant and boat trip indeed! Parts 1 – 6 are seamlessly sequenced so this album can best be enjoyed in one single run.
Vesterhavet is released as a digital only release, so there's no physical counterpart this time.

---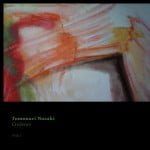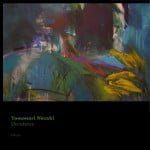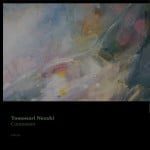 TOMONORI NOZAKI – CREDENCE / DECADENCE / CONCESSION
A set of three EP's by 
Tomonori Nozaki, 
formerly 
UNKNOWNjp.
Together
the music would've easily fitted on a single CD but this is clearly aimed ad the vinyl-loving audience that can appreciate great artwork when they see it (created by 
Jakob Brondum 
and 
Hannes Jentsch)
Six abstract drones (around 12 minutes each for
Credence,
and 9 minutes for 
Decadence,
7/11 minutes on
Concession
) that slowly build to a noisy climax before slowly retreating again to a final closing chord.

"Dense layers of sound, morphing acoustics and chugging industrial rhythms, all while keeping his distinctive and much loved tape recorded sonics hissing and gestating away."
Mastered by Denis Blackman, using his experience with Merzbow, Philip Jeck, Coil, Cocteau Twins and Zoviet France "to ensure the analogue epics sound their most powerful without resorting to the overly compressed ear wearing aproach that makes so many modern listens a tiring experience".
Tomonori Nozaki uses old analog reel-to-reel gear and cherishes its imperfections and slow degradation: so the dropouts you hear at some moments are intentional (no need to check your system).