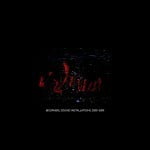 BIOSPHERE – SOUND INSTALLATIONS 2000 – 2009
Geir 'Biosphere' Jenssen's Bandcamp page is rapidly growing. The original discography is completed with (digital-only) releases with previously unreleased work.
Sound Installations 2000-2009 is one of those.
The set contains 11 tracks, ranging in length from 3 to 15 minutes, almost 90 minutes total. All pieces were written for different sound installations – deep, haunting, atmospheric, beatless soundscapes that were written for a specific installation purpose. The pieces are often 'arctic' in nature, and perfect for creating unobtrusive sonic backgrounds. But there are occasional exceptions such as the nightmare-ish decomposition of The White Cliffs of Dover and the loud war-preparing speeches (I guess) in Snurp 1937.

Unfortunately, no information is included about the specific installations. The track titles may give some hints but you'll have to use your imagination – or just let your surrounding environment become the installation it was written for.
---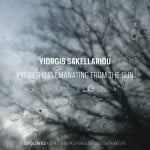 YIORGIS SAKELLARIOU – EVERYTHING EMANATING FROM THE SUN
This is the first release of a forthcoming Crónica series called Corollaries: works that were produced as part of the Active Crossover residency curated by Simon Whetham: 'a platform to investigate further ways of capturing, creating, composing and performing in sound'.
"Igor Stravinsky talked about the pleasure of listening to the sounds of nature, however he emphasized that we would fool ourselves to call this music. Natural sounds, as he argued, suggest music, are promises of music, but cannot become music until they are put into order and organized as a "conscious human act"."
Yiorgis Sakkelariou opens the series with a 31-minute composition called "Everything Emanating From The Sun"  (the title comes from Emanuel Swedenborg's Life in Animals & Plants).
"Eventually the amount of manipulation and ordering of the recordings followed purely musical and compositional needs. It is about effectively placing sonic events in time and not submitting to any kind of pre-fixed rules about recorded sound. After all, I did not perceive this piece as a representation of my journey in Estonia and certainly I was not merely documenting the country's sonic atmosphere."

"Returning to Stravinsky's thoughts, perhaps the conscious human act that he requires can simply be the act of listening. This activity, potentially profound and meaningful, establishes a form of communication between the listener and the environment but remains a personal experience."
"Everything Emanating From The Sun" starts out with a drone that may very well be the deepest/lowest you have ever heard, changes into a much louder, almost mind-numbing industrial pulse… then to suddenly transform into a soundscape incorporating many different kinds of environmental recordings. Indefinable metallic sounds, resembling rain on a roof, conclude the piece before it returns to a comforting silence.
---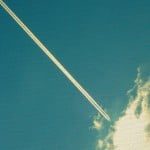 DAVE KIRBY – CONTRAILS
Whitelabrecs is a new small DIY label initiative by Harry 'Speruleus' Towell. All releases are physically available in a very limited (50) edition, each packed in a 'Vinyl-effect CDr housed in card sleeves with a circular cutout'  – thus resembling white label vinyl recordings. Of course, there are also digital downloads available for those that miss the limited CDr edition.
Whitelabrecs doesn't aim to present a set music genre although all releases will be focusing on experimental electronic/acoustic music.

'Contrails', the second title in the series,  is a project from Dave Kirby, a Somerset UK-based artist active since 1982, although not always under his own name (some may know him as Satori). It is part of his 'Extreme Environments' project that started in 1985. This originally started "to create longer Ambient pieces recorded to cassette with the intention that the listener could play them back on headphones at a specified location", but  Kirby revived it in 2014 using digital technology.
Though there are six separate parts, Contrails can be enjoyed as one single drone piece:
"A first listen to Contrails might make you consider it as a 'sleep album' given its contemplative and calming presence but it is perhaps best enjoyed when taken to the outside world. As the components of this body of work unfold, you will become fascinated with how it interacts with the sounds and visuals of the outdoors. "
---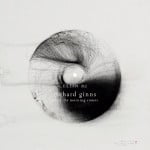 RICHARD GINNS – UNTIL THE MORNING COMES
From the beautiful sonic sketches on this collection you can easily hear that Richard Ginns is inspired by photography and visual arts.
"His work often combines a visual theme with field recordings and found sounds at the centerpiece of his sound world – Richard's acoustic and analog instrumentation define a minimal approach to his work. Using electronics and DIY instruments, he also uses reel-reel tape machines, tape loops and cassette recorders to paint a sound wall of texture and ambience. "
This album is released by Eilean Records, but the physical copies have already sold out there. So the links above and below direct to Richard Ginn's own Bandcamp page, where a few last copies still remain. Digital copies can of course be found on both pages.