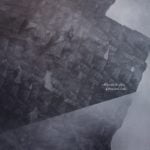 OFFTHESKY & PLEQ – A THOUSAND FIELDS
Apart from running and curating the Dronarivm label, Pleq (Bartosz Dziadosz) is one of those artists with an extremely high release rate, so it's quite difficult to keep up. But at the same time it's important to keep yourself informed, because in the blink of an eye you might miss something very beautiful.
Like, for example, this collaboration with Jason (Offthesky) Corder, released on 2xLP + 7″ (the 7″ for the first 300 only!) and as a digital download.
(A CD version may be available in the future).
The sound of this album is somewhat different you may expect from their previous work: electronic are present but less prominent, in favour of a large-scale orchestral sound. It's part ambient music and part modern classical; both equally balanced.
"What has been hinted at in solo and prior collaborations meshed together with an influence of equal parts minimalism, fourth world ambience, field recordings, drone, and experimental composition to a stunning degree."
Try the opener track for example – I guess you'll be hooked and want to hear the full album!

---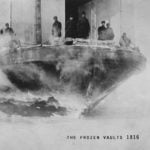 THE FROZEN VAULTS – 1816
Pleq is also one of the core members of The Frozen Vaults – a modern classical collective also featuring Harry 'Spheruleus' Towell , Yuki Murata (piano), David Dhonau (cello) and  Tomasz Mrenca (violin).
1816 is the group's debut album, released on the Voxxov record label.
The title refers to 'the year without summer' – one of the coldest years the world has ever seen; the coldness attributed to a violent volcanic eruption of Mount Tabora in 1815.
Between all other original compositions there's an unexpected arrangement of God Rest Ye Merry Gentlemen, which immediately seems to link this album to christmas time and thus feels a bit weird on this (spring-released) album.
Every detail of this album refers to the cold, to the 'perishing chills that so many were subjected to over the course of the year', but still to my ears the music radiates a lot of warmth – like sitting close to a woodfire while the cold is raging outside.
I suspect this will not be the last we hear from The Fronzen Vaults, because the string/piano section combines beautifully with Pleq and Spheruleus' electronics and field recordings.
---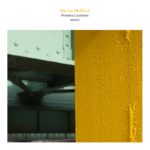 DARREN MCCLURE – PRIMARY LOCATIONS
While it's a please in itself to simply listen to this album, it's also important to know about its background concept: the relationship between sound and light.
For this album, Darren McClure converted the wavelength of  color ranges into corresponding audible frequency ranges: 397-431 Hz for red to orange, 464-497 Hz for yellow to lemon, and 598 to 665 Hz for blue to violet.
With these specific frequency ranges new music was created. This music was then linked to specific recordings from locations containing one of these primary colours: the main bridge at Matsumo Castle (Red), a metal overpass supporting train lines (Yellow), and a tarp-covered shed situated among farmland and rice-fields (Blue). The resulting pieces are fascinating 'sonic snaphots of three sites, their ambience and the sound of their colors' 
---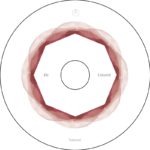 FABIO PERLETTA (∅E) – UNSEED
Unseed is the first release in a news series on Arboretum (a young experimental label from Berlin) called Hanami Series: one release every year between April and May. Hanami is a Japanese word referring to the tradition of contemplating the transient beauty of nature, and to help you contemplate the CD is bundled with some original japanese cherry tree seeds!
Fabio Perletta (also releasing as ∅e) is an italian multimedia artist with a lot of experience in music as well as installation and performance art.
Unseed is created re-using and re-processing samples that were originally used for his 2012 album Transfer – an album exploring Affective Computing: 'a sonic reflection about all affective phenomena which come out by the use of digital interfaces: the emotions are thus converted twice (reality-digital, digital reality).'
It's an interesting thought: though this music is created strictly with electronic means it still definitely is affective music. Positive and light in nature, too – thus a perfect help for contemplating the transit beauty of nature!
FABIO PERLETTA – CHARM: HANAMI