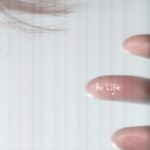 With her previous releases, Anne Garner has secured a very special place, right in the middle of the area where indie folk, singer-songwriter and ambient music overlap.
Since 2006 she has partnered with experimental music producer James Murray, who is also the label owner of Slowcraft Records.
Their collaboration resulted in the immensely beautiful set Trusting a Twirled World – released in a vocal as well as an instrumental edition.
Be Life – the successor of that 2011 album set, and again the result of the close collaboraton with James Murray – moves further along the same path … but somehow it feels as if Anne's otherworldy vocals are even more intense and intimate.
This is shamelessly romantic music, and also unmistakeably English in nature.
Anne's soft voice (closely recorded as if whispering directly in your ear), the lyrics, and possibly most of all the arrangements are as reassuring as a new-found love.
"It's folk when celebrating lives lived, the grass and the dew and the soil. It's classical when steeped in an ancient hymnal timelessness. She draws on electronica an electroacoustic too, though these are songs in the truest sense; intimate arrangements leaving lasting personal impressions."
James Murray's music is a perfect match for this setting. His arrangements fit the songs like a blanket, at times reminiscing some of the best of Brian Eno's shorter song arrangements – which is especially clear in the instrumental tracks like Soft Eyes.
The songs feel personal, direct, and very touching – though that may be a personal thing of course.
It's in the chord arrangements, the voice, the lyrics – all of these breathe a kind of naivety – but it's  a naivety of a very mature kind!
I immediately fell in love with this album upon first listen. Repeated listening left me wondering how it could've possibly been that I had not heard of Anne Garner before!
But, with all her work being available still, it's never too late to catch up, is it?