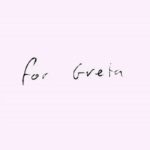 LOSCIL – FOR GRETA
A strikingly beautiful three-track set from Loscil (Scott Morgan), released as a fundraiser for his friends whose daughter Greta has been diagnosed with Ewing's Sarcoma.
More recommendation to download this and pay generously for it should not be needed.

---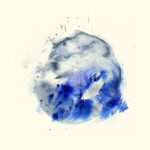 OLAN MILL – HALF SEAS OVER
Short (26 minute) but beautiful set from Olan Mill (Alex Smalley), presenting some live tracks as well as new studio pieces. More than before, "the hauntingly beautiful vocals that have become increasingly predominant in his works really take centre stage here."
Originally, the expression 'half seas over' "comes from the notion of a ship being so heavy that it sits low enough that small waves (half seas) wash over the deck of a ship".
Which perfectly fits the waves of sound 'washing' over the listener.

---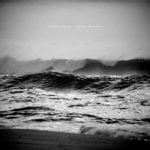 LINEAR BELLS – CONCHE DE MATHA
As you probably guess from the cover, it's only a very small step from "Half Seas Over" to Linear Bell's "Conche de Matha"  – thematically ánd musically. David Teboul's 'washes' are created from the sounds he recorded when visiting a small French island in December: "I decided to trap all the surroundings sounds and soak up the best of this autumnal atmosphere." At home, the sound atmosphere was recreated with additional layers of guitar, cello and organ. The result can be heard found in this beautiful name-you-price download.
---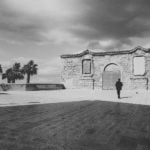 FABIO ORSI – JUST FOR A THRILL
These eight tracks, all simply titled "Just for a Thrill", all evolve from minimalist melodic tunes that are embedded in a warm synth pad backing. The album starts with 'classic' piano themes but slowly gets more 'electronic' and abstract near the end; as if the 'backing' takes over. Most of the tracks are around six minutes in length, with the exception of (4) and (8) that are considerably longer (up to 20 minutes for the closing piece).
Released in Home Normal style: packed in locally cultivated and harvested washi paper and also including en 16 page booklet with Fabio Orsi's polaroid photographs.

---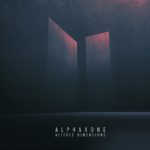 ALPHAXONE – ALTERED DIMENSIONS
Considerably darker atmospheres come from Alphaxone, which is the alias of Mehdi Saleh (from Iran). "Altered Dimensions" is a great title capturing the cinematic sounds of this masterfully produced album "of smooth frequency manipulation."
"Creating dark ambient soundscapes with a futuristic touch", Alphaxone "reaches a new level of audio fidelity and there is always something subtle in the background as protruding from beyond the physical plane."