In the Shortlist sections, I will mention the albums that I enjoyed listening to, but couldn't find the time (or the right words) for a "full" review for. Still, I definitely think they deserve your attention, with ór without extra words!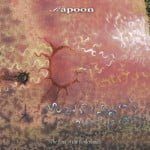 RAPOON – THE FIRES OF THE BORDERLANDS
Originally released in 1995, this is considered a landmark album in the impressive catalogue of Rapoon (Robin Storey) releases. It became out of print long ago, but now receives a well-deserved expanded re-release: the double CD features a (near) 40 minute live recording for KFJC Radio (San Francisco) from 1996, next to the remastered version of the original album.
"These sounds generate images of desert lands somewhere in uncharted countries suspended in time. It is a chronicle of those lands which was found buried in the scorching sands. You can almost feel the texture of it in every second of this album which conjures up ghosts of people from those lands with writhing snakes at their feet."
RAPOON – CIRES DIVAM
---
TAYLOR DEUPREE – LOST & COMPILED
I don't think the work of Taylor Deupree needs any further introduction here… This album was especially compiled to be sold at the 2014 Japan tour, but the remaining copies can be bought from the 12k shop.
The compilation has an interesting concept: the tracks "came from the idea that songs go through so many permutations that by the time they are released they have left behind a trail of ghosts. Sometimes when he goes back to early and rough mixes of songs he will hear something more relaxed, free, and less perfect…
The songs on this album are just that: tracks in earlier states of completion or entirely different versions that never made the final cut."
TAYLOR DEUPREE – SLEEPOVER (ALT)
---
JAMES MURRAY – MOUNT VIEW
On this final chapter of his 'biographical trilogy', after "Floods" (2012) and "The Land Bridge" (2013), James Murray presents seven tracks all conveying a sense of retrospective melancholy.
" Mount View was the first place I called home and casts a long shadow over my life. To return is to close a circle that spans three and a half decades. Mount View is the vantage point from which I can best see things as they are, a place from which I can forgive and let go. It is the beginning and ending of all things."
The subtle soundscapes are are filled with details and (almost faded) melodies, making this album feel like a collection of abstract instrumental 'songs' more than just 'classic ambient' music.

---
RED SECTOR A – RESET
A remarkable release on the Italian Xonar label, presented without much information, apart from the fact that Red Sector A is Andrea Belluci.
Belluci has been creating music since the mid-90's, and his experience can be heard in the production and the arrangements. Starting from ambient soundscapes, slowly introducing occasional beats, sequencer patterns, glitches and voice samples, "Reset" naturally meanders through different styles of electronic music.

---
JASON GRIER – UNBEKANNTE

"…and now for something completely different…", you might think at the beginning of this album, when Jason Grier sets in with the sweet acappella song "Baby I don't know right now". And that's true, but in a way you probably didn't expect: it doesn't take long before Grier lures you into different -more unknown(unbekannte)- territories: with every track the album seems to get weirder until in the last track – the title track – it seems to have become completely detached from reality.
"Grier would offer little more direction than "just play something melancholic while I put on this meditation record", or "what does it sound like to cut this wire here? then here! then here!!"
He commissioned hour-long cymbal solos, spun psychoacoustic tone-webs from thousands of guitar harmonics, used rewired guitar amps as sub-bass microphones, and recorded the spontaneous sizzling of snare drums placed in a sealed room beside bass oscillators set at extreme volume levels."
There's always a hidden link with "pop" music somewhere, mainly due to the guitar and vocals (partly provided by Lucrecia Dalt). But with a creation process like this, and the choice of 'exotic sound objects', this album is in fact more 'experimental' than many, many others!
JASON GRIER – COVER ME