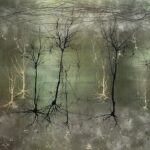 For this mix I aimed to create a dreamlike and timeless atmosphere – dark (but not too dark). It is calm, yet there are many shifting scenes, many passing landscapes and some conflicting emotions… When it ends, (I hope) it feels as if it was much longer than it actually was …
Like with most previous mixes, I didn't know where this new one would head to when I started.
But I knew I wanted to include one tiny fragment of the sound of a 'brain seizure set to music' by Stanford scientists Chris Chafe and Josef Parvizi. In a fascinating contrast to what it actually represents, the musical sound they chose to represent the brain seizure sounded like tiny aliens in a retro-scifi movie to me.
In "Hypnogogmatist", David Toop further investigates the tricks your mind can play – especially in the few seconds between feeling drowsy and falling asleep:

"In the dream, I was at my mothers' house, my childhood home.
All the rooms were full of sleeping people.
I seemed to be suffering some process of disintegration, as if my psyche was breaking down to different timeframes, losing its coherence and unity.
There was a presence in the house…"
The fantastic artwork is by Greg Dunn, who is combining neuroscience with minimalist Japanese Sumo-E style painting to create his "Neuron Art".
"Neurons (the cells that comprise your brain) may be tiny in scale, but they possess the same beauty seen in traditional forms of the medium (trees, flowers, and animals)"
So I guess that there ís something of a theme for this mix.
The rest is up to you.
"Synaptic Research" was mixed especially for Headphone Commute, and is especially dedicated to incredible amount of energy and work H_C does there to keep us informed and updated.
Thanks for that, H_C – and of course also for publishing this mix on your blog!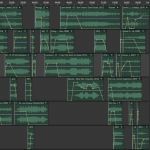 Playlist
[start] [length] [Artist] – [Title]
[Album], [Year], [Label#]
00:00 02:28 Alvin Lucier – Elegy for Albert Anastasia
Vespers and other Early Works, 2002, New World Records 80604-2
01:26 02:03 Teho Teardo – Several Tree Huggers Were Found Dead
Faith in a Wet Season, 2012, Voxxov Records VOXFCD02
02:41 01:43 Threethings – Arkhangelsk
Sequence 7, 2013, Future Sequence SEQ007
03:50 01:58 Kane Ikin – Slipping Away
…And Darkness Came, 2012, Headphone Commute HCD001
05:23 01:20 Ekkehard Ehlers – Woolf Phrase
Music for William Forsythe, 2002, Whatness 005
05:32 02:35 Philippe Lamy – Trying to tell a Story
Storytelling, 2012, Audio Gourmet Netlabel AGN061
07:14 01:30 Christina Vantzou – Moonsound (Ernest Gibson Remix)
No. 1 Remixes, 2011, Self-released
08:27 03:00 Alva Noto, Ryuichi Sakamoto – Microon III
Summvs, 2011, Raster-Noton r-n 132
09:41 – 02:18 Jlu – Noise
100 Years of Noise, 2013, Enough Records enrcmp19
10:04 04:15 Thomas Köner – Novaya Zemlya 3
Novaya Zemlya, 2012, Thouch TO:85
12:28 03:53 Dr. Jeffrey Thompson – Voice of Earth (edit)
Nasa Voyager Space Recordings, 1992, Brain/Mind Research
14:17 00:52 Chris Chafe – Josef Parvizi – Stanford Scientists turn seizures into music
14:36 01:53 Arve Henriksen – Magma Oscillator
Chron, 2012, Rune Grammofon RLP 2152Y
15:20 02:05 Heitor Alvelos – Untitled
….49 Years from Gesang der Jünglinge, 2005, Sirr 0020
16:40 02:06 David Toop – Hypnogogmatist
Melatonin: Meditations on Sound in Sleep, 2004, Room40 EDRM402
18:43 02:42 Arturs Maskats – Da Ispravitsja Molitva Moja
On Photography, 2005, GB Records BCGBCD07
20:48 02:35 Murcof – Plant
Antibothis vol 4, 2012, Thisco thisk.072
21:29 05:45 Eyvind Kang – Petrified Wood
Air Texture volume III, 2013, Air Texture AIR003
25:00 06:37 Biosphere – Superfluid
Compilation 1991 – 2004, 2012, Biophon Records BIO7D
28:20 02:19 The New Honey Shade – 2013.02.04
3M33S, 2013, Bandcamp
30:40 01:09 Mark Tamea – The Lake
Atomism, 2013, Awal EQ:RA 002
31:37 01:30 Atom TM – Streuung – Teil IV
Winterreise, 2011, self-released
32:04 02:12 Seetyca – Der Atem Des Thieres
Im Traum, 2005, Dark Winter dw016
33:17 01:06 Coil + Nine Inch Nails – Eraser (Reduction)
Recoiled, 2014, Cold Spring CSR193CD
33:48 02:08 Sergio Sorrentino, Machinefabriek – Buco Nero (Zwart Gat)
Vignettes, 2013, Fratto 9 Under the Sky Records fratto024
34:35 02:01 Pleq – The Early Symptoms of Schizophrenia
It's not Boring, It's Ambient, 2012, Preserved Sound
35:45 03:03 John Kannenberg – Echoes of the Pharos
Meditations on Light (Reconstructions, 2011, Monochrome Visions, MV35
36:34 02:28 Benoit Pioulard – If I Could Possibly Tell The Difference, I Wouldn't Care Anyway
Air Texture Vol. II, 2012, Air Texture AIR002
38:23 01:35 Dakhabrakha – Yagudky
Yagudky, 2007, self-released
39:21 01:00 Felipe Otondo – Teocalli
Tutuguri, 2013, Sargasso SCD28070
40:06 02:33 Penjaga Insaf – Perang Damai
To Whom it May Concern, 2005, Shortwave Transmission SWT01
41:48 02:27 Lustmord – Y Gair
The Word as Power, 2013, Blackest Ever Black BlackestCD004
43:15 02:44 Kreng – Nimmermeer
L'Autopsie Phenomenale De Dieu, 2009, Miasmah MIACD010
45:27 02:46 Loren Nerell – Slow Dream
Slow Dream, 2012, Projekt PRO271
46:27 05:36 Mendel Kaelen – Satori
Remembering What Was Forgotten, 2010, Self Released SR001
50:27 02:08 Bass Communion – Grammatic Fog
Bass Communion III, 2001, Burning Shed
51:45 01:39 Brady Allard – Vernichtung, Pt. 2
Anamnesis, 2012, self-released/Bandcamp
52:47 02:47 Kim Cascone – The Silver Star
The Astrum Argentum, 2007, Musica Excentrica exc009
54:16 05:43 Janek Schaefer – Radio 112 FM
Lay-By Lullabye, 2014, 12k 12k1079
55:03 01:51 Frances White – Centre Bridge (Dark River)
Electroacoustic Works, 2007, Mode 184
55:24 03:03 Jamie Drouin – A Three Month Warm Up
A Three Month Warm Up, 2009, Dragon's Eye Recording de 5023
58:27 01:32 Frances White – Centre Bridge (Dark River)
Electroacoustic Works, 2007, Mode 184
1:00:00 End
Download Synaptic Research now 137Mb (60:00 min.)
[Alternative download from Archive.org]
[DTS – Surround Version also available]
[total: 1,410 - today: 1]