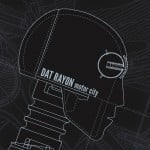 From Gdansk, Poland comes Dat Rayon.
I have no idea who is (or are) behind that alias, but that only adds to the mystery of this album.
"Motor City" is Dat Rayon's second full album, the follow up of the self-released "Station Wagon" debut from 2012. This time it's released by Zoharum, with a beautiful 6-panel sleeved physical edition too (limited to 300 and quickly selling out, by the way).
Though "Motor City" has a lot of ambience, this is not ambient music. Minimalist Dub Techno would be a far better description.
"Motor City" is a direct reference to Detroit – the birthplace city of the automobile industry that went bankrupt in 2013 after a steady decline and decay.
Though the music is more abstract and much darker, thematically (and somehow stylistically too) has references to the sound of Kraftwerk.
It seems detached from all human emotions, as if the music could was created by the robot from the front cover image.
Crystal clear, imaginative, electronic details and slow compelling rhythms are layered in spacious reverb – reflecting "echoes of deserted factories that were once full of life".
DAT RAYON – MOTOR CITY PT 2