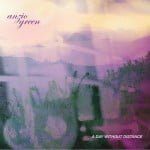 Right after the light-hearted opener soundscape "Morning Tea", "A Day Without Distance" takes a somewat unexpected turn: "Fall Down" (with vocals by Kate Tustain) is a mysterious pop-oriented track that reminisces the sound of the 4AD label (or This Mortal Coil, to be more specific) in the mid-80's.
After this track one would expect more 'ambient-pop' like this, but surprisingly the album takes a fairly radical turn into more experimental soundscapes.
But – even though Kate Tustain's vocals are not reappearing – it never loses touch with the 'accessible' side. This is obviously what International DJ Magazine meant when they described the Rednetic label as "the subtle marriage of the adventurous with the accessible".
Anzio Green is the collaboration between Mark Streatfield (New Zealand) and Wil Bolton (UK). "A Day Without Distance"is their second album.
They both bring their own background influences: "While the first album was very much of a New Zealand vibe, this is very much the UK, with London and Liverpoopl playing a major role".
Being neither from New Zealand nor from London or Liverpool, it's hard for me to pinpoint those geographical properties to the music – but atmospheric this music definitely is!
"A Day Without Distance" presents many different moods and clearly demonstrates both Streatfield and Bolton's experience and their ability to create different moods and atmospheres without becoming 'arty for the sake of it'.
With the inclusion of "Fall Down" at the beginning, it may seem the album cannot really determine its definite course, as if it cannot choose between 'ambient pop' or more abstract 'sound-art'.
But the balance is restored with introducing rhythm tracks in "Thunderstorm" and "Sorry for all the Mistakes", and ultimately the album manages to combine the best of both worlds. For this, it might be a perfect introduction of 'ambient' music for listeners that aren't really familiar with the genre yet. In a way the instrumental tracks of This Mortal Coil did in their time.
But for real 'ambientheads' this is a most rewarding album too – maybe because it also links back to the real world down below…


ANZIO GREEN – TALL GRASS