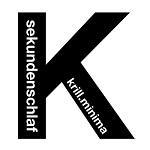 Krill.Minima is one of the aliases of Martin Juhls ,who is also releasing as Marsen Jules and Falter, (not to mention his Wildach Sonnerkraut alias.)
From all these aliases, Marsen Jules is obviously the most well-known.
The Krill.Minima music is of a somewhat different kind, but also very dear to Juhls' heart – especially for live performances.
In a remarkable note on his website, Juhls stated that"playing live shows as krill.minima is always big fun for me. Each show is different and a unique experience not only for the audience. Unfortunately most of the booking requests I receive are mainly focused on my more popular alter ego Marsen Jules."
For that reason, he offered to play (2011) Krill.Minima shows for free, in any venue, or in& "your living room, your favourite bar or maybe on the balcony of your luxury penthouse"
The joy of creating and playing can also clearly be heard on this 12 track album!
"Sekundenschlaf" ("Seconds of Sleep") is only the second physical Krill.Minima album release, among numerous other digital releases and DJ-sets which are often available as (free) digital downloads – you may want to check out the website for further details.
If you're into a sound somewhere between, (early) Deadbeat, Deepchord and Basic Channel, you definitely don't want to miss this album!