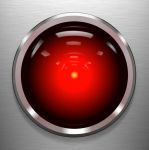 If you have ever watched Stanley Kubrick's "2001 – Space Odyssey", you will definitely remember the impressive scene in which the memory modules are slowly taken away from HAL, the ship's main computer, because it started to disfunction and became a threat to the astronauts and their mission.
Just before his memory fades completely, HAL remembers being programmed to sing"Daisy", one of his earliest digital 'childhood memories'.
With this scene (as well as with HAL's name), Kubrick directly referred to the IBM 7094 computer (used to control the Mercury and Gemini space flights, as well as the Apollo missions) which was programmed to sing Daisy in 1961 – a remarkable accomplishment at that time!
Computer systems revolting, loss of memory, human utterings that seem to come from lost souls….
I guess you'd better be prepared for a dark and suspenseful listening hour …
If you have listened to this mix, I'm really curious to know what you think, so please let me know!
(and please let your friends know, also… just spread the word and make these mixes heard … thanks for your help!)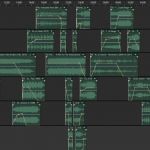 Playlist
Track Start – Sample Length – Artist – Title
Album Details
00:00 03:33 Huan Qing – Guang Wu Road #108
Hexiefu, 2011, FM Productions Ltd, FM3CD01
01:27 02:16 Hiroki Sasajima – Nanoparticle
Escala 2.3.1 Ice, 2012, Escala 2:3
01:46 03:25 Aalfang Mit Pferdekopf – Die Hungervogellockvorrichtung
Kall Trä, 2012, Empiric Records emrec 1
03:51 01:46 Maile Colbert/Simon Whetham – Light Brutal
Meditations on Light, Reconstructions, 2011, Monochrome Vision mv35
04:47 01:11 Neil Milton – The Broken Lines
Brave New World, 2011, FeedbackLoop Label FB010
06:02 01:43 Pierpaolo Leo – Bioluminescence
Underwater Noises, 2010, Ephre Imprint IC/eph01
06:28 01:50 Alio Die – Little Pain
Funeral Songs, 2001, Crowd Control Activities CCA 026
07:25 03:33 Max Richter – When She Came Back
Elle S'Appelait Sarah, 2010, Jade 6997269
09:24 05:06 Loscil – Endless Falls
Endless Falls, 2010, Kranky krank141
12:57 02:15 Ex.Order – Shuchu Ryoku Part 3
Incendium III, 2011, Loki Foundation LOKI 54
14:31 02:33 Specta Ciera – There Were No More Days After That
Ceci N'Est Pas Une Pipe, 2009, Public Spaces Lab PS010
15:23 04:17 Somatic Response – Fear Chasing Hope (Zombie Subway HC Edit)
…And Darkness Came, 2012, Headphone Commute HCD001
16:45 04:52 Stanley Kubrick – HAL Memory Unload Sequence
2001, A Space Odyssey, 1968, MGM
18:22 06:02 Runar Magnusson – The Heathen Harp: A Pärt for the Dreamachine
Options, 2009, Hljóðaklettar – #HKUSB1
21:31 01:55 Holly Herndon – Breathe
Movement, 2012, RVNG Intl RVNGL 15
23:15 01:45 [Blank] – Sueño
Sueño, 2012, F4TMusic F4TS001
23:50 02:52 Dustin O'Halloran – Fragile No. 2
…And Darkness Came, 2012, Headphone Commute HCD001
25:33 05:20 Richard Chartier – Rendered 1_2009
10, 2011, Room40 DRM410
27:16 05:19 Y Create – Diablo Coast Range
The Walls Are Whispering vol. II, 2004, EE Tapes EE05
31:33 02:01 Pawel Grabowski – Untitled
Essays on Radio: Can I Have 2 Minutes of Your Time?, 2005, Cronica 020
32:14 03:31 Carlos Suarez – Vanitas
Escala 2.3.1 Ice, 2012, Escala 2:3
33:53 02:27 Enrico Coniglio – Calls of the White
Dialogue One, 2011, Silentes CD 201128
35:51 03:40 Alva Noto – Stalker (For Andrei Tarkovsky)
For 2, 2010, Line Line_044
38:35 00:59 Kate Carr – One Minute For the Stars
One Minute For the Stars, 2011, SEM Label, SEM 011
38:37 04:34 Runar Magnusson – The Delicate Work of the Creator
The Greatest of the Great, 2005, Hljóðaklettar
39:13 08:52 Sala – The Hollow Pine
Somewhere on the Edge, 2012, Gruenrekorder GRUEN 100
40:19 06:15 Antonymes– Collapsed
Five Pieces, 2012, Rural Colours RC050
46:10 01:15 Machinefabriek – Cymbal (edit)
Sequence 3, 2012, Future Sequence SEQ003
46:33 03:05 Andrew Liles – Foreigner
New York Doll, 2004, Infraction INFX 013
48:36 02:20 Atom TM – Vienna
1I3835Tra3Um3, 2010, Rather Interesting RI 067
49:55 03:36 Lawrence English – A Ballad for the Machine
Loud Listening, 2012, Cronica 067
51:51 03:44 Dead Voices On Air – From Afar All Sparks and Glee
From Afar All Sparks and Glee, 2010, Lens Records LENS0118
54:14 05:01 Bass Communion – Dronework
Dronework, 2005, Headphone Dust HDBCCD14
56:50 01:35 IBM 7094 – Daisy Bell
programmed by John Kelly and Carol Lockbaum,
accompaniment programmed by Max Matthews (1961)
59:15 End

Download Broken Lines Now 99Mb (59:15 min.)
[Alternative download from Archive.org]
[DTS – Surround Version also available]
Daisy, Daisy, give me your answer, do,
I'm half crazy all for the love of you.
It won't be a stylish marriage,
I can't afford a carriage,
But you'd look sweet upon the seat
Of a bicycle built for two.
(Harry Dacre, 1892)
[total: 1,834 - today: 1]