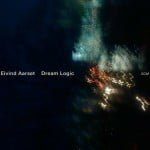 Norwegian guitarist Eivind Aarset will probably be known by many of you, just for his contributions to the music of artists like Nils Petter Molvaer, Arve Henriksen, David Sylvian.
When reading about his new solo album, the combination of some details made it clear to me that this was a release to look forward to:
First: it is released on the ECM-label.
Second: it is co-produced and co-composed by Jan Bang. 
Third: it's title is "Dream Logic" …
The title of this album is well-chosen indeed:
"With its drifting planes of sound-texture, built from layers of processed guitar, sometimes supported by subliminally-throbbing bass, and its otherworldly ambience, it attains an almost hallucinatory quality, underlined by its avoidance of stressed time."
The guitar may always be the starting point, but from there the processed effects and added samples create a dark, yet sometimes also comforting atmosphere, "developing and expanding the emotional core of the material".
These fascinating soundscapes Aarset and Bang create together, are also proof of their invaluable contribution to the works of the artists they have worked with in the past.
The eleven tracks vary in length (from under two minutes to over seven) as much as in dreamlike atmospheres. The colour of those atmosphere ranges from lovely green to pitch-dark black; and the images are clear at some times but mysteriously hazy at others.
"The beauty of Decay" , the album's closing track (featured below), is a respectful dedication to the Fourth World Music of Jon Hassell.
It's almost impossible to classify this music because it surpasses any genre definition. It may be classified as impressionist jazz, electronic experimental soundscapes,ambient – or all of those.  
But whatever genre it may be filed under, many (if not most) visitors of this weblog will definitely favourite this album.

EIVIND AARSET – THE BEAUTY OF DECAY