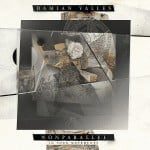 "Nonparallel (In Four Movements) is composed and arranged entirely from samples from the recordings of avant-garde Western classical composers and computer music released by the Nonesuch label in the 60s and 70s."
Just that statement alone should be enough to raise your interest for this new album by Damian Valles, just because of the fact that from the early 60's, the Nonesuch label has been on the forefront of electronic and avant-garde music – releasing classic titles like Morton Subotnick's "Silver Apples of the Moon" and Beaver & Krause's "The Nonesuch Guide to Electronic Music"
"In working with the material, Valles wanted to enter into its very lineage, to forge a dialogue with it, to both extrapolate something essential from it and contribute to its legacy by using it to create an original work some three decades later."
"The process started with recording small sections, randomly selected from pieces written and performed by the likes of Elliot Carter, William Bolcom, Charles Ives, Charles Wuorinen, Stefan Wolpe, et al. The source material was then carefully cut up, rearranged, stretched & heavily manipulated. In addition, the decision to sample directly from the original vinyl editions was important in order to capture the crackles and noises generated from the records themselves."
This creation process is somewhat similar to the way Ricardo Villalobos and Max Loderbauer approached the material from the ECM-catalogue on their remarkable album "Re:ECM".
Because the way the original sounds are used the original feeling of these recordings can somehow be felt, yet there is no way to even remotely recognise the original recordings, because they are completely transformed into a new sound.
Nowadays, there is hardly anything revolutionary or controversial in "electronic" music.
But with this approach, Damian Valles captures some of the excitement of the strange worlds that opened up in the 60's, when previously unheard sounds could be recorded with newly invented techniques.
This adds the specific 'extra' to this album, a dimension of adventure that many other contemporary releases lack, simply because the creation process of creating electronic music has become so much easier.
Not for those that seek the adventure behind what's obvious, though: creating this album took some three years to complete!

Damian Valles – Nonparallel, Movement 3