It's quite hard to keep up with Rutger "Machinefabriek" Zuydervelt's output. In fact, I could easily publish an entire (sub-)weblog dedicated to his releases.
I really try to avoid returning to the same artists with every new release. But the sheer quality of Rutger Zuydervelt's music makes it hard to ignore his newest releases.
Every new release seems to bring a new surprise: an unexpected collaboration, or a kind of special touch that makes his music stand out from the mass of other releases.
It may be hard to keep up, but it's always very rewarding to check his new releases.
Here's a pick from the latest batch: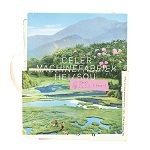 Hei/Sou (with Celer)
The third (and final?) 2-track 7″-single from the series with Celer (following Maastunnel/Mt. Mizake and Numa/Penarie.
Again, the 7″ vinyl format is completed with two impressionistic videos by Marco Douma (included with the digital download). Together, these three singles are a great set of varied soundscapes and a showcase dialogue of two artists inspiring each other to new territories.
Stroomtoon
Compared to Hei/Sou, this album offers an entirely different kind of Machinefabriek. The 18+ minute opening track is a  jawdropping analogue tone seemingly spiralling downware endlessly, until, almost unnoticeably, it starts dragging you back up again. This is not "just" a tone generator sound: because of the subtle field recordings mixed in the background – creating a strange mixture of organic and electronic atmospheres.
Once back up from this downward journey, Rutger continues to explore the possibilities of his soundmachines, proving that he can get maximum effect from a (seemingly) minimal setup.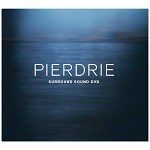 Pierdrie (with Roel Meelkop and Marco Douma)
A short collaboration DVD (18 minutes, but it automatically loops endlessly) from a project installation of 3 video monitors and 4 speakers "about the visual and sonic phenomena of pier drie in the Rotterdam Waalhaven."
The images of the 3 monitors are merged and edited for use with one screen – the DVD format offers the opportunity to play this in full surround sound as well in stereo.
I'm a sucker for immersive surround-sound ambient, but unfortunately, releases like this are fairly rare.
I don't know why, really, because the immersive possibilities of surround sound are perfect for this kind of music. And home cinema systems are fairly common these days, so a lot of people can enjoy the surround sound in full effect.
Pierdrie is a colourful and atmospheric hommage to Rotterdam harbour industries (that vaguely reminded me of David Sylvian's groundbreaking "Steel Cathedrals"  from 1985).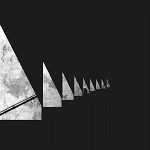 Windtunnel with Esper Reinertsen (Free Download)
To conclude this batch, here's a free download offered from a collaboration with saxophone player Esper Reinertsen. This installation was especially created for the arcade of the NAi (Netherlands Architecture Institute) in Rotterdam.
"Four notes repeated with variant intervals are played through four seperate loudspeakers positioned throughout the passageway. Walking through the arcade, the emphasis shifts from one note to the other, giving the listener an active role in his experience of the piece."
As this is a stereo mix of the piece, the cover impression of the arcade and your imagination will have to help you in creating your own active role. But, in passive mode, this piece also works perfectly.