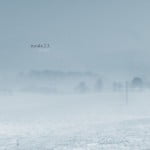 It was a rather casual remark from Pleq, promoting his own track on this set, that led me to "Escala 2.3" . 
Following his advice, I found an amazing set of 3 albums, presented by the Escalared netlabel and Sísmógrapho Radio 3 from Spain.
46 tracks of new ambient, drone, soundscape and electro-acoustic music – over 4 hours of music in a free download package … you can even choose to download it in MP3, OGG or FLAC format!
Divided into three different parts named "Ice", "Water"and"Snow", "Escala 2.3"presents a wealth known ánd unknown artists.
Just mentioning a few of the "known" artists (which is of course relatively speaking) may give an impression of what can be expected, sonically:
Pleq (thanks again for mentioning this!), Francisco López, Nigel Samways, Kenneth Kirschner, Antonymes, Yui Onodera, Hakobune, Shaula, Spheruleus, Talvihorros, Offthesky & Radere, Konntinent, Leonardo Rosado and Porzellan.
And that's only 1/3 of what's offered.
The music offered is as diverse as the artist list, but overall the compilation retains a remarkable coherence.
"A unique compilation to keep abreast of the latest proposals in advanced music that presents a matchless quality among the experimental scene, both because of the artists who make it up and of the included unreleased tracks".
I do not "just" recommended this set: it's an obligatory download.
Grab it now and start listening.

Cello + Laptop (Sara Galán + Edu Gomelles) –  The Hunt