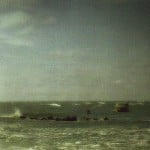 "The Endless Now"  is Wouter Veldhuis' second full release, the follow up to his 2008 release "Satumaa" (which is available as a recommended free download from Bandcamp, by the way!).
These two albums match each other very well, both presenting 'classic' dreamlike electronic-ambient music.
A lot of contemporary 'ambient' music is crossing over to acoustical improv, using piano and guitar, or neo-classical string ensemble.
But not these albums, since Wouter Veldhuis chooses to create his layered sound-fields using electronic means mainly. As an interesting result, these  soundscapes have a nice 'retro sci-fi' feeling.
A somewhat 'old-school', classic ambient sound, maybe, but that is meant in the positive sense: it does not mean this music sounds like 70's krautrock or Tangerine Dream.
No sequencer patterns here at all, the compositions are deep soundscapes – unearthly and alienated.
Great "Music for Art Installations", in fact!
These releases also demonstrate that it is quite difficult for any musician in this 'niche' to get out from under the radar. Wouter clearly knows that, so he decided to share "Satumaa"  for free. In the end, it's more important to be heard than to be sold (although that would be nice too, of course).
A few remaining CD-R copies of "The Endless Now",  can still be found at the Organic Industries label, but if you have access to Spotify you can also stream the full album from there.

Wouter Veldhuis – The Endless Now