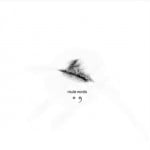 However deep and fascinating 'classic' (drone) ambient music may be, listening too much of the same kind can get a little eh… same-ish. The borders and boundaries need to be stretched in some ways, and that's where the adventurous music tends to start.  Even though, by strict definition, this may or may not be called 'ambient' music at all (such as with a lot of the post-classical or improvised acoustic music lately).
I don't really know, but this may very well have been one of the reasons for Leonardo Rosado, also known as the curator of the Feedbackloop label (with its impressive catalogue of ambient/experimental music), to start a new label with a somewhat different concept: Heart and Soul.
Heart and Soul  will focus on combining poetry and music, and will release albums in physical formats only (so NO downloads!): a paperback book combined with the CD in this particular case.
Editions are "totally homemade" – but unlike many others not 'strictly limited', because they are made on demand. 
The very first release on this Feedbackloop sister label is Rosado's own "Mute Words"
The poetry and the music on "Mute Words" is written by Leonardo Rosado. But do not expect 'spoken word' poetry on this album:
"Mute Words explores the delicate boundary between thoughts and words". 
"Guest vocals are brought in almost imperceptibly, adding further dimension to the floating and ephemeral drone works." 
The first vocal track, featuring Barbara de Dominices'  voice, tries to reach you fragmented and multi-layered, as if coming from a distant dream,  while the last track (voiced by Alicia Merz) is in fact more 'sung' than 'spoken'. Michelle Seaman (half of the Dwindlers) performes "The Study of Doubt" ; to me, her voice has the same kind of spellbinding and hypnotizing quality as Laurie Anderson's.
With these three tracks being about half of the album, one could hardly call this a 'vocal' album. The other half. the instrumental tracks, perfectly match the atmosphere, thus making "Mute Words"  a well balanced introduction the new label concept of Heart and Soul .
Leonardo Rosado has set himself a high quality standard for this label!
"Mute Words"  is released on 2 december 2011, but can be pre-ordered now.

Leonardo Rosado with Michelle Seaman – The Study of Doubt