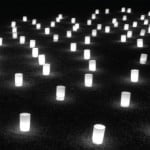 The deepest grief can often inspire the most impressive art.
The albums of Dakota Suite are not the ones to celebrate the happier moments in life, as can be seen from their titles alone.
They commemorate sadness, loss, pain, fear and loneliness.
But the (mainly acoustic) instrumentation also always leaves room for hope, for acceptation of the way life is.
Previous Dakota Suite releases have brought some timeless masterpieces, like "The End of Trying"  and its remix companion "The Night Keeps Coming in" (you can still stream the Folio Radio show compilation of these two albums).
Dakota Suite's latest release "The North Green Down" may prove to be their most impressive work to date. But the foundations of this album is of heartbreaking sadness once again…
"The North Green Down" is dedicated to Chris and Johanna Hooson's sister-in-law Hannah Dyke, who died of cancer at the age of 37.
The instrumentation effectively illustrates the grief of such a life event, with Chris Hooson on piano and guitar, David Darling on cello, Colin Dunkley on piano and cello, Johanna Hooson on clarinet, and a somewhat surprising (and rather modest) role for Emanuele Errante (keyboards, field recordings, laptop, harmonica, voice).
Some of these compositions were played live before their final recording for this CD: early versions of some of the tracks appeared on the beautiful and intimate Vallisa live recording from last year (that also featured David Darling on cello).
Like on earlier Dakota Suite recordings, the compositions are all very compassionate, which gives them a timeless, classical quality.
"The North Green Down" is an impressive commemorative for all family lost too soon.
It is released on Lidar Productions – (which some of you still may remember from the legendary Bersarin Quartett in 2008).

Dakota Suite – A Worn Out Life (David Darling – Cello)