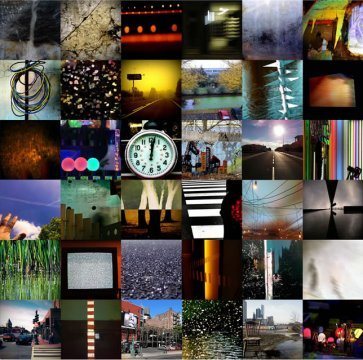 I guess I should start with a warning for regular visitors: this mix is different from what you're used to.
First: it's definitely not an "ambient mix", although there's quite a lot of ambience involved in this music.
Second: it's not a compilation mix, but a mix featuring the music of one artist only: Michel Banabila.
Ever since I heard Banabila play a live set for VPRO's radio program Spleen (way back in 1983, mind you!), I have been addicted to his music. This particular track has remained one of my favourite over the years…although the sound quality slowly deteriorated because I had to copy it a few times from cassette to cassette to preserve it…(that's the reason it is not included in this mix).
Looking back to the musical output of almost 30 years, Banabila's music is hard to categorize. He has released ambient music, as well as world fusion and sample jazz music ("Voiznoiz 3 – Urban Jazz  Scapes", recorded with dutch jazz trumpeteer Eric Vloeimans was awarded an Edison in 2003).
His tracks has been used in many theatre productions and television documentaries!
Banabila's music is very experimental at times, yet it conveys emotions one can easily relate to – and it is exactly that which makes him a unique musician…as well as one difficult to market because he cannot be 'pinpointed' to any contemporary style.
When I started on this mix, at first I wanted to focus on the ambient music Banabila has created. But in fact that would not do him right, it would represent only a small part of all the music he created.
This mix is not a 'Best of Banabila', neither is it a collection of personal favourites  (in that case it would be a lot longer!). Looking back on this mix, I see a painful amount of tracks-that-should also-have-been-included….
But it covers a lot of different aspects of Michel Banabila's musical world.
A world built from "Streets, Dreams and Memories", waiting to be discovered by those with open ears..
Playlist:
00:00 T A P E (Mix 2), Unreleased, 2008
00:23 Intro Harbour Set, Harbour Set, 2010 (for Geert Mul)
02:07 Phonema 2, Phonema, 2003 (with Rotterdamse Improvisatie Pool)
02:36 Satellite Queens, Satellite Queens, 2007
04:11 Phonema 4, Phonema, 2003 (with Rotterdamse Improvisatie Pool)
05:31 A Man in a Room, Precious Images, 2008
06:30 My Mother's Voice, Vuka! Vuka! theatre show, SA, 2005
08:51 Watercolour, A Living Thing, 1998
10:14 UAV, Sperics, 2003 (+ UAV – Sanjana Mix, 2006)
13:42 Buildings, Changing Structures, 2008
14:23 A Strong Sense of Urgency, Spherics, 2002
17:47 Babylon, Precious Images, 2008
17:56 Untitled, Unreleased, 2010 (with Mehmet Polat)
22:12 Azmignie, Voiznoiz – Urban Soundscapes, 1999
24:02 Do Something About it, Voiznoiz – Urban Soundscapes, 1999
25:05 SMS-ing, Hilarious Expedition, 2005
26:06 Quietly Descending, Changing Structures, 2008
27:20 My Name is Johnny, Banabila-Monoscope live, 2005 (with Anton Goudsmit)
29:04 Lost in a Big Building, Changing Structures, 2008
30:40 Bicycle Exotica (reworked), Hilarious Expedition, 2005
35:25 The Perfume Route (for Maher Al Sabbagh), O.S.T. The Perfume Route, 2010
36:20 X-Zone, A Living Thing, 1998
37:04 Friedrich Remixed, Recyclopedia, 2009 (with Eric Vloeimans & Frans Friedrich)
41:37 Voices from a Secret World, A Living Thing, 1998
43:06 Intro, Vuka! Vuka!, 2006
45:47 Hosanna, Voiznoiz – Urban Soundscapes, 1999
47:00 The Monitor is Dead, Spherics, 2003
51:24 Zeer Duister (Voor Peter van Cooten), unreleased, 2007
53:06 My Brain is Electric, Hilarious Expedition, 2005
54:30 Magical Day (Huiskameronweer Mix), Precious Images, 2008
(+ Voix du Fou Remix, with Eric Vloeimans)
56:52 Small Talk (Off Balance Quasimodo Mix), Drone Download Project, 2009
58:26 The Holy Mountain, Precious Images, 2008 (with Eric Vloeimans)
(c) All compositions by Michel Banabila

Download Streets, Dreams & Memories Now102Mb (63:00 min.)
links:
Banabila Website
Soundcloud
Myspace
Flickr
[total: 2,430 - today: 1]