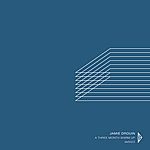 The 'Warm Up' this title refers to is the 'cacophony of notes played by a symphony during warm up, where a single unified tone emerges out of the various intruments and voices" (from the liner notes).
In this 'cacophony' Jamie Drouin recognised the resemblance with the constant sound of traffic on a public square. He started recording these sounds at a public square in Victoria, British Columbia, Canada. The 124 field recordings from a period of three months were used to create this composition.
But this certainly is not 'just another field recording'!
In fact, you probably won't even recognise this is built from traffic sounds. Just as you may find it difficult to recognise and isolate the sounds from the symphony orchestra tuning and warming up.
'Drouin creates a sonic signature of the space, as if a residual echo of everything that occurred during those three months has been trapped within the structure.' (Liner notes again)
The samples are very heavily treated and layered, the result is an immersive sound bath, reminding me of some of the work of Thomas Köner (although there's considerably less low frequencies).
The composition was created as a site specific work (for the Assume Nothing Exhibition, Victoria, jan-may 2009), but this 77 minute recording (!) also can definitely also be enjoyed outside of it's context.
More info and reviews: www.dragonseyerecordings.com