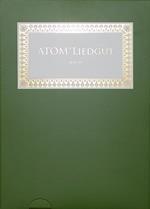 If there is a link between Kraftwerk and Latin Music, it can be pin-pointed down to one man: Uwe Schmidt, aka Senor Coconut.
His CD 'El Baile Aleman' (2003) was full of a stunning arrangements of Kraftwerk tunes in a latin big band fashion – gotta hear it to believe it.
The music and sounds on Liedgut, recorded under the Atom TM monniker, is the complete musical opposite of this hot-blooded latin Senor Coconut sound.
If one thing is clear after listening to Liedgut, it is that Uwe Schmidt is one of the very few people that can claim understanding everything that Kraftwerk stands for.
It's not only in the crystal electronic sounds, but it's also the tongue-in-cheek humour and in compositional detail.
Unsurprisingly, most compositions are manipulated White Noise. The synthetic sound diametrically opposes the compositional themes like 'Wellen Und Felder' (Springs and Fields) and 'Berge und Täler' (Mountain and Valleys).
On the other hand, a track like Interferenz I will immediately appeal to anyone who ever left their mobile phone too close to their unshielded computer speakers.
In retrospect, Kraftwerk proved to appeal to a dance audience and helped creating hip-hop music (which still is one of the most unimaginable facts of musical history).
Atom TM's sound is too slow for that, it's less dance-oriented than Kraftwerk proved to be. But this release oozes respect to Kraftwerk from every single digital bit.
And though this is serious shit to listen to, it's also good, clean fun. Uwe 'Coconut' Schmidt's sense of humour is never far away. Just be sure to check the closing track 'Schlusswort' for an example.
None of the sounds heard in this album is 'typical 2009 electronics'.
But I don't think this album could have been made years ago.
It's electronic genius, disguised as innocent fun.
Amazing.