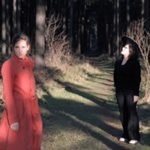 To be honest I had never heard the name of Esther Venrooy until recently, when I was struck by a track on a compilation CD 'Avontuurlijke Muziek in Brabant' ('Adventurous music from Brabant', a freebie with a recent Gonzo Magazine). This fragment from her CD 'The Spiral Staircase' (released on Entr'Acte) definitely proved checking out in full.
'The Spiral Staircase' is not really 'ambient'. 'Electronic sound art' is a much better definition. Unlike a lot of contemporary electronic music 'The Spiral Staircase' feels like it has a heart and a soul – it's not just 'calculated' electronics. This may be due to Esther's background as a saxophone player, or her Cinematic approach, or the fact that she creates music for stage performances.
Or maybe even simply (?) because she is a woman (which is quite unusual in this musical field – but maybe I should not start any discussion on this matter).
As a follow up to 'The Spiral Staircase', Entr'Acte recently released a new album: "Mock Interiors", which finds Esther Venrooij collaborating with pianist Heleen van Haegenborgh. Heleen (who also lives and works in Gent, Belgium) is specialised in contemporary experimental music; her biography boasts extensive performing works of impressive names like Morton Feldman, Alvin Lucier and George Crumb.
If quality would be measured by the number of times I hit the 'repeat' button on my players, "The Spiral Staircase" and "Mock Interiors" would be among the best discoveries this year.
It saddens me to think that so little people may find this music, and that Esther and Heleen may be known only to a very small belgian and dutch audience. They deserve a much wider recognition than that. But hey, if The Wire found out about their music, why don't you? Be sure to check out BOTH audio samples below (and in the audio player!)