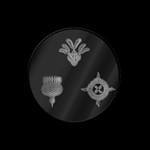 Bloom. Huge. Allure. The Explanation. The Discussion. An Answer.
This is quite a special case (literally!).
Carefully scheduled in the last three years, Fovea Hex released three EP's, each containing three songs, with a bonus cd containing remixes/reworks by The Hafler Trio (H30) for every initial release.
Concluding this series, in 2007, a beautiful box is released (as could be expected) containing all 3 EP's and, if you want it all, also including the bonus cd's.
Fovea Hex essentially is Clodagh Simonds, singer and multi-instrumentalist (in ancient times she performed on Mike Oldfield's Ommadawn (!)). She's teaming up with a lot of influential musical friends like Brian Eno, Robert Fripp, Percy Jones, Geoff Sample, Roger Doyle and Colin Potter. And, not to be forgotten, Andrew McKenzie (aka the Hafler Trio/H30), who provides some extreme ambient reworks of the vocal tracks.
This music is quite uncategorizable – it ranges from vocal arrangements firmly rooted in the English musical tradition, to extremely minimal ambient arrangements.
As stated on the website:
"Fovea Hex comes round again to shape-shift and to evade & confound those who bray "what exactly IS it?", and "where does it BELONG exactly?", and "who exactly belongs to IT?".
If you must bang on the table like that, you won't hear a thing."
Or, as someone else said: "Songs that don't go where you think."
It's this adventurous mix of everything unexpected that makes this boxed set so very special. In fact, it's one of the most adventurous things I have heard in (three) years.
This gem will be fairly hard to come by through your local regular shop, but it's available through janetrecords (for UK) or Die Stadt (Europe and elsewhere)
An extensive mix of this set will be presented at the first FOLIO broadcast of January, 2008.