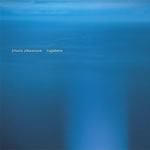 4AD will re-release Jóhann Jóhannssen's "Englabörn" in November. Perfectly timed, since the opening track Odi et Amo, which is "sung" by a computer, links seamlessly with the equally beautiful 2006 release "IBM1401 – A User's manual".
Englabörn originally was written as an acoustic score for an Icelandic play with the same name. A play só violent, that Johannsson chose to take the other direction for the musical score: the sweet, melancholic sounds of an acoustical string quartet. The resulting effect seems to have been devastating for those that attended the original play.
(The same trick, by the way, was used by Stanley Kubrick in his masterpiece "A Clockwork Orange" – where he linked the ultraviolence to the beauty of "Ludwig Von" Beethoven)
For the 2002 cd-release, Johannsson processed (parts of) the acoustical recordings and added electronics. That was a perfect decision too, because it resulted in a beautiful recording that stands firm on it's own. The original release was on Touch records, the rerelease is on 4AD. That should give a clue.