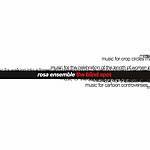 A local independent production most of the time is not a good one to judge – most of these can be categorized as 'sympathetic' only. Imagine my surprise when I started listening to this CD an I could not leave my place until it got finished…only to hit the 'replay' button.
To be honest: The Rosa Ensemble are no newcomers at all. For almost ten years now they have been experiencing with alls sorts of experimental theatre music. Their experience shows on this album: this cd sounds like an exciting soundtrack, one of a kind where all sorts of influences merge.
Post-modern ensemble music, a Steve Reich crash course, some subtle electronics…stylistically it reminded me of Tuxedomoon's music and the like.
But this really is 'now' music. It's not always 'easy' (in fact it can get quite abstract), but when things get tough some beautiful melodic always come to the rescue. Rose Ensemble are merging avant-garde music with theatre-/soundtrack- and rock-influences.
A fascinating (and unclassifiable) cd. I'm proud to live in the city where this music comes from!!