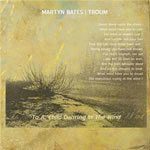 By definition, 'ambient music' cannot be 'vocal music' unless only wordless syllables are sung (by my traditional definition, that is). Recognisable text generally asks too much attention, and singing almost always requires chords that can be 'remembered' easily. Still – in the last year I have heard some great examples of music that defies this narrow definition. There are quite a few examples of "songs" that work very well with a clearly ambient, droney background. For a good example, listen to Wheely Down cover by the Uncertain Music Corps.
Very often the vocal parts lean heavily on (english) folk tradition. Which should come as no surprise, because the drone was extensively used in early folk music instruments.
On thís particular project Martyn Bates (singer in Eyeless in Gaza in the 80's), teams up with german "Transcendental Drone-Muzak" duo called Troum. The lyrics are W.B. Yeats poems, and the result of this combination is chilling.
This release may prove to be a landmark in ambient history: the ambient genre definitely has found its way into a new territory.