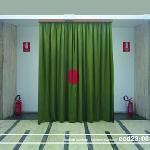 Ambient electronic music sometimes seems to lack self-relativism and humour. That's why track-titles like "ECM Haircuts" or "Sign Everyone in Iceland" call for immediate attention.
"Excellent Swimmer" – the latest Modern Institute Album on Expanding Records – has just the right mix of relativism and seriousness, and a perfect blend of electronic and acoustic sounds too..
It's Martina Bertoni (on cello) and Teho Teardo (on everything else) – with a little help from Mark Beazley (Rothko) on the track you can listen here (called "post.ino").
"Excellent Swimmer" defies standard genres; there's quite a lot of references found in it…sometimes it even reminded me of the Penguin Cafe Orchestra.
Nice. Or more than nice – Great!