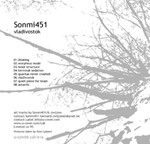 The Belgian U-cover label has shown a fine taste in their ambient releases.
Not all releases are 'ambient' in the strict, beatless sense: the U-cover label describes itself as an underground electronic label, and that's what it is. Call it Ambient, call it Techno, U-cover releases are immediately recognisable by their specific sound.
Apart from their official label releases, U-cover also started the limited cd-r series, in which new talent is presented. Sonmi451's 'Vladivostok' is released in this CD-R series. It's limited to 95 copies, so I guess you have to hurry if you want one!
Sonmi451 is a character from David Mitchell's novel "Cloud Atlas" who works as a slave-robot in an underground diner place, in a society called Nea So Copros in the distant future. Belgian musician Bernard Zwijzen has chosen this alias for presenting his music.
Vladivostok has a lush, warm sound and fits in perfectly with the other U-cover releases, at least those that I know. It reminds me of the earlier Biosphere sound.
In fact, I don't really understand why this particular record is released as a CD-R – it really deserves your full attention!