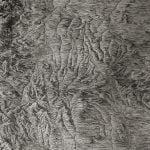 High Plains is the name of a duo of classically trained cellist Mark Bridges and Scott Morgan (who is also known as Loscil).
Their collaboration started with Bridges playing cello to Morgan's generative music app Adrift (which according to the press release notes should be available for iOS as well as Android, but unfortunately I couldn't find it in the Play Store so I guess it's iOS only… please correct me if I'm wrong).
The nine tracks of Cinderland were recorded in two weeks, in a refurbished school in Saratoga, Wyoming, culminating in "a collection of recordings that evoke a shadowy introspective and dizzying winter journey", and "takes cues from classical, electronic and cinematic musical traditions but is mostly a product of the rugged, mythic landscape; vast and sprawling with a wild, uncertain edge."
It's a highly adventurous collection, with tracks taking different approaches: sometimes focussing on the modern classical sound above all, sometimes leaving out the cello and focussing on electronic and synth sounds (Ten Sleep, Rushlight), sometimes tense (A White Truck) or haunting (Hypoxia) and sometimes very relaxed and sleepy (Black Shimmer).
The closing track Song For A Last Night combines it all: Morgan's unobtrusive electronics and Bridges' cello part reminiscent of Arvo Pärt's Spiegel Im Spiegel. 
There are many albums presenting the cello combined with performing with piano and/or electronics, but the Kranky label once again managed to hand-pick one of the best of the crop!
---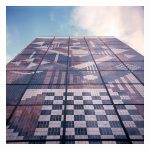 CEEYS are the Berlin-based brothers Sebastian and Daniel Selke, subtly merging their chamber music arrangements of piano (Daniel) and cello (Sebastian) with electronics and field recordings.
Concrete Fields is the follow-up to their debut album The Grünewald Sessions, which was recorded live in a small church.
Concrete Fields (Betonfelder in German) is the first part of a trilogy. The title refers to the area they grew up in the 80's: Europe's largest prefab estate Marzahn-Hellershof, Berlin, East Germany.  "A state established in the Soviet Occupation Zone during the Cold War Period, and now the endless grey blocks of cold concrete, steel, and glass communicate only anonymity and oppression."
Think 'Berlin-inspired music' and David Bowie's 'Low' and 'Heroes' probably jumps to mind immediately. But Concrete Fields sounds nothing like that kind of Berlin. For the Selke's, "the region always kept a blend of an edgy feeling of departure and a vague melancholy. [Here] we had our daily lives, with school and friends and holidays".
To capture the atmosphere of the area CEEYS are referring to, the album is completed with photos from Anne Krausz, and a set of visualizations on Youtube. But you may very well have other associations with this music… possibly about your own childhood area.