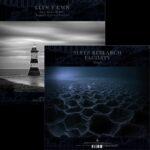 SLEEP RESEARCH FACILITY / LLYN Y CWN – SARGO / POSIDONIA
It's been 11 years since we last heard from Sleep Research Facility (Kevin Doherty). (Which, as some of you know, is not entirely true: his 10-minute AB-Mix also appeared as an exclusive track on the Ambientblog Anniversary Collection in 2015). And it's even 22 years since he released his debut album Nostromo, which has become one of the reference albums for (dark) ambient. So it's good to see him back, releasing a new extremely deep ambient drone soundscape.
It's not a full album this time, but a split with the Welsh Llyn Y Cwn (Benjamin Ian Powell) – which means Lake of the Dogs. Since 2009, Llyn Y Cwn is emulating 'the type of environment and atmosphere encountered at that lake (in that mountain range of Snowdonia) and other cold places of the world: harsh and desolate but at the same time beautiful'.
Here's where the two artists meet: both investigate the deepest 'blackened watery abyss, where light cannot reach': SRF's Sargo is inspired by the deep sea ocean floor and the Posidonia tracks from Llyn Y Cwn are based on field recordings relating to the ocean – a floating pontoon, waves crashing on a cobble beach, an acoustic sonar. Both sides of this split album fit together perfectly.
Be prepared to take a deep isolationist plunge into the unknown darkness to uncover its beauty.
---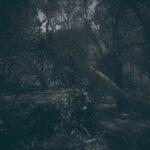 Envoûteuse Haleine: it translates to Bewitching Breath. A beautiful title, but liner notes do not include the translation itself but more a description of the context for this music: a 'sonic ecology, liminal frequencies in the imaginary landscapes of threshold consciousness'.
Envoûteuse Haleine presents seven pieces based on 'a defined and persistent set of tones and pitched motifs; sifted into uneasy motion; digital, analogue and found sounds, texture, rotation, duration and decay…'
Zane Trow has worked with sound ever since the mid-70s, but mostly creating works for performing and visual arts. As a recording artist he released albums since 2004, all of them on the Room40 label. His soundscapes are created 'with improvisation and sound art treatments thru pure frequency modulation synthesis, complex digital delay systems and with Ross Bencina's Audiomulch sound software'.

His broad experience shows in these well-balanced soundscapes, which are captivatingly enchanting. Ánd, unfortunately, rather short with its running time of 30 minutes. But that is what the repeat button was invented for!