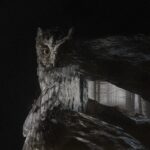 MastroKristo (or μastroKristo as it is officially written) offers his debut album as the fourth release in Lost Tribe Sound's subscription series Salt And Gravity. But for those that do not want or cannot subscribe to the full series, the albums are also available separately.

Christos Parapagidis (mastroKristo) is a 'naive' multimedia artist, producer, and multi-instrumentalist from Athens, Greece. This may be his debut album release, but he already has quite a lot of experience as a composer, sound designer, and sound engineer.

His experience helped him to define a clear view of the sound design he wanted for this album, in which he chooses different angles than usual. There are some 'lo-fi' accents, such as the use of 'the worn mechanics and incidental noises of his nearly 100 years old upright piano and its exposed soundboard'. Other instruments are deliberately placed in the back of the mix, as if they are playing from the back of the room.
But it's clear from the start that this is a deliberate sound design choice, not coincidences or inexperience.

This adds to the nocturnal atmosphere the compositions have in themselves. As if some of the music comes from your half-sleep.

"'Departures' is a nocturne, built from a humble and quiet rehearsal for untuned piano, tuba, bassoon, and tapes. It's a tribute to the night, and to all the failed and successful attempts at falling asleep."
A remarkable debut album that strays off the beaten track, thus adding inspiring new impulses to a somewhat overcrowded genre.
---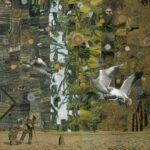 Built Upon A Fearful Void is the last album in another Lost Tribe Sound subscription series, one bearing the same name as this album. But as usual, it is also available separately: as a 2CD release or as a digital download.
William Ryan Fritch is a prolific Californian composer who scored the soundtracks of over 100 documentary and narrative films. With the exception of his earliest releases in 2008, all of his (over 30) albums have been released on Lost Tribe Sound – including the work he released as Vieo Abiungo.
His work has a very distinctive sound that is immediately recognizable once you have heard some of his albums. It is a "unique amalgam of folk, contemporary classical, and experimental music", but its uniqueness also comes from the recording and production techniques Fritch uses.
I hesitate to call it 'lo-fi', because that is not what it is at all. But Fritch stays away from the near-perfect widescreen cinematic production that is common in modern classical music, using "a mixture of audio fidelities, by using Hi-Fi 24 track decks and old Soviet magnetic wire recorders". The result is very intimate and spontaneous sounding.

Built Upon A Fearful Void is not composed as a movie score. The album was "seemingly fated to never be completed" because over the eight years the music was recorded the music was either lost or discarded three times: "a leak that waterlogged and ruined most of the half dozen tape reels the original album was recorded on, a destroyed and unrecoverable hard drive in 2018 that held the near-completed mixes and finally in 2021 voluntarily letting go of what remained of the salvaged material to rerecord the album entirely using only faint flickers of the old tapes and cassettes that held the remnants of the old songs."

Using "union and disunion of sonorities for pipe organ, reed instruments, voice, viola da gamba, prepared piano, pedal steel, viola d'amore and banjo", and "dozens of unreliably tuned reed instruments like sheng and shō, chromatic harmonicas, oboe, concertina, accordion and reed organs", William Ryan Fritch created a fascinating collection that perfectly demonstrates his uniquely personal sound.
---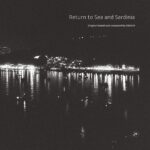 Glåsbird ("an anonymous project by an established artist, built specifically to branch into the world of composing music for film and creating far-flung fictitious journeys") returns to the Whitelabrecs label with the soundtrack for the docu-film Return To Sea And Sardinia.
This film re-traces D.H. Lawrence's journey to Sardinia some 100 years ago, which resulted in his book called Sea And Sardinia.
In the 19 tracks of this hour-long soundtrack, Glåsbird presents a varied and captivating set of "sound-postcards". Two of these tracks also feature the voices of Coro Femmininile Urisè.

Glåsbird's previous releases, Grønland among them, "aim to explore the globe through albums inspired by various locations as a sonic expedition to faraway lands".
He (or she, or maybe even they?) "describe this soundtrack as a 'vacation' from the on-going 'A Sonic Expedition' series, yet it has been approached in a similar way to this musician's work: the cycle of inspiration, research, and more inspiration."
The CD-version is printed in an edition of 300 (finally a title that is not sold out at the time of publishing my recommendation), and includes a 32-page booklet of stills and captions of the film. This booklet is also included in the digital download as a PDF file.