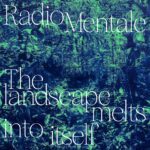 The French duo consisting of Jean-Yves Leloup and Éric Pajot have presented a radio show called RadioMentale ever since 1992. It was (or perhaps is) broadcast on various radio stations in Paris, Switzerland, or Japan. With that as a starting point, they have created various works for exhibitions, movies, sound installations, as well as sound design for bars, hotels, and restaurants. Their music can best be described as sound-collages "dedicated to the mental and immobile journey, based on poetic and fragmented narratives, which can remind the art of cinematographic montage and sound design."
With its 95 minutes divided into five tracks each around the 20-minutes, The Landscape Melts Into Itself is an unusual long album "at the crossroads of ambient, sound art and radio art." It starts slow and quiet with barely heard environmental sounds but slowly more unusual sounds begin to emerge.
The opening track, Trees Are Multiplying features a spoken word story performed by Wild Anima from Berlin. The closing title track ends with the original (French) version of the song, Les Arbres Se Multiplient.
In between, the landscape indeed seems to melt into itself.

Partly inspired by their live performances, the duo mixes and layers all kinds of electronic sounds, drones, loops, textures, found sounds into a sonic journey "in which one can guess or discover surprising and singular samples, extracted from movies, medias or archives."

As their references, they mention The Orb, Future Sound Of London, David Lynch, and Brian Eno – at some moments I wondered why they didn't also mention The KLF's Chill Out.
---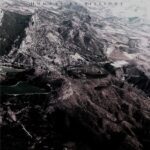 If you hear similaties in sound creation in RadioMentale's album and this self-titles Humans By Billions album, you are right. Humans By Billions is the first solo album by Éric Pajot, one-half of RadioMentale.
Both albums mentioned here share the ingenious mix of electronic sounds, field recordings, loops, textures, found sounds, spoken fragments or sung voices (the latter especially performed by the Australian MM Delay in the second track Our Eyes).

This album is not a recent release, by the way. It was originally released in 2015 but is now re-released with a previously unreleased track Le Livre (The Book). The 2015 debut was the first of three albums, followed by Sacred Fields (2019) and Solar (2020). All released on his own label Irradiant Hologram.
At moments, Human By Billions sounds a bit more down-to-earth than the RadioMentale album mentioned above, but it unmistakeably has the same immersive and somewhat disruptive hypnotic atmosphere.

Both albums have one track in common: Les Arbres Se Multiplient (The Trees Are Multiplying), originally created by RadioMentale, is found here in a reworked version by Éric Pajot (who also wrote the text for it).

Note: the Bandcamp link is the link to the original album. For the reissue, use this link.
---
As an extra note, I should add here that Jean-Yves LeLoup used his knowledge of the subject matter to write a book about Ambient music. But I must immediately (and sadly) add that there is a French version only.

"In this historical, aesthetic, and critical work, Jean-Yves Leloup explores the multiple ramifications of this music genre, the first traces of which appeared well before the 1970s. The author evokes its sometimes ancestral, traditional, and liturgical origins, lingers on the classical modernism of Erik Satie, the inventions of John Cage and the minimalist movement, traces the birth of new age music and the "cosmic" movement of the 1970s, before analyzing in depth the career and approach of Brian Eno.
[…]
Above all, it shows how this music, once avant-garde, has now conquered the mainstream, through music streaming platforms and even more so through the soundtracks of films and series which, in Hollywood as elsewhere, have for the last ten years succumbed to the ethereal atmospheres of this elusive musical genre."

We can only hope that there will be a translated version later, of course. Interested publishers can contact Leloup at jeanyves -dot- leloup6 – at – gmail – dot – com
As a companion to his book Leloup has compiled an extensive (300+ track) Spotify playlist called A Chronology of Ambient Music.