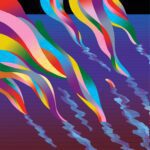 On his third release for Les Albums Claus, Ben Bertrand "weaves transverse waves into otherworldly compositions". He can do so on his own, as he impressively demonstrated at the Rewire festival earlier.

But Dokkaebi is not a solo performance. Here, Bertrand (bass clarinet, electronics) is accompanied by Christina Vantzou (field recordings), Geoffrey Burton (guitar), Indré Jurgeleviciuté (vocals on O Ignee Spiritus, originally written by Hildegard von Bingen), Otto Lindholm (double bass), and the Echo Collective: Margaret Hermant (violin, harp) & Neil Leiter (violin).
Dokkaebi are creatures from Korean mythology and folklore: "nature deities or spirits possessing extraordinary powers and abilities that are used to interact with humans, at times playing tricks on them and at times helping them."
In Korean folklore, Dokkaebi can bring good harvests, big catches en great fortunes, and defend against evil spirits. But they can also cause bad luck that brings fires and contagious diseases.

In the music of Ben Bertrand, however, the Dokkaebi only play subtle tricks with the mind, no evil deeds here:

"Dokkaebi is deeply familiar yet refreshingly unknown, like a comforting whisper from your subconscious. It gently drifts into perception, glistening like the sun sparkling off a glacier gliding along the edge of your vision. They are sounds reshaping themselves to suit the contours of each individual's subconscious."
---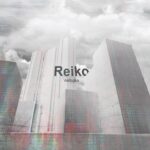 Nobuka is Dutch artist Michel van Collenburg. Apart from a few EP's, he released You Look Like An Angel, She Said in 2020, in memory of his mother who died from Alzheimer's disease. His new full-length album Reiko is released on the Esc.Rec label: "Home for adventurous music".

And adventurous it is, indeed. Reiko (a Japanese girl name that translates into "beautiful child") tells tales of a city "scarred by the effects of climate change and burdened with the imminent threat of viruses" and a girl "who has her own demons. Anxiety, depression, a dead-end job."

With a theme like this, it is no surprise that some of the (11) tracks are quite abstract and haunting. But there is room for beauty too, such as in the opener Begin and A Set Of Four Dining Chairs – a collaboration with Michel Banabila.

Banabila also appears on another track (Of Lovers and Innocent Bystanders); on The People, Machinefabriek appears as co-composer. But, in the tracks nobuka performs all by himself particularly, you can feel that there were indeed some demons to be fought for himself, too.
Working on this project "helped me to deal with feelings of anxiety and isolation. Something I expect a lot of others have struggled with as well in the past year and a half".
The closing track title suggests that everything ends well. Or does it? I'm not sure if I listen to the words spoken by Marina Tadic. But, as Michel van Collenburg says himself: "Now it's time to let it go."