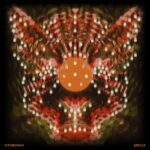 It was the unusual atmosphere on Spells that immediately caught my attention. A strange mix of Krautrock-ish atmosphere in the opening track Gntlr, ethnic-sounding 'medicine music', coupled with vocal samples and electronics. Well-balanced, organic music.

Exploring the 12 relatively short tracks on the (41-minute) somehow felt like a sonic journey in a non-existent (but very appealing) exotic place. All tracks, however different they are, stay close to the album's 'organic ambient feel'.

Otorongo (Paul Gaeta, flutist and electronic musician from Asheville, North Carolina) merges so many different genres that he creates a new genre for himself.
His artistic philosophy "combines his love of martial arts and plant medicine with a close connection to his natural surroundings: The Blue Ridge Mountains". The technical aspect of synthesis and production is of secondary importance.
Spells is self-released; available as a digital download as well as on white vinyl.
---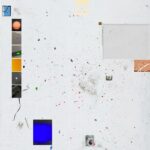 Particles is the debut release of Slovenian artist Matevž Kolenc, known (or perhaps not much known, though some may know his name from his connection to Laibach) as Olenc.
With the help of Ema Kobal playing cello, Kolenc focuses on "decomposition and the granulation of singular strings of cello, conceptually constructed all tracks by zooming into the musical/sound matter."

The result is fascinating cyborg-like music, in the sense that it sounds organic and non-humanoid at the same time. The title track is the most 'granulated' of this small collection, the preceding tracks have the quality of a movie score.
This is no surprise knowing that these tracks were created for a VR-Project ('Dust, Michael Saup) and theatre performances ('Demian', Jana Menger; 'Blackholes', Bara Kolenc), which explains why they feel so very 'visual'. I myself felt some associations with a movie like Blade Runner, though more in the atmosphere than in the musical style.
With so much quality in only 24 minutes of playing time, Particles feels too short and leaves longing for more. There is small compensation for that short playing time in the separate release of the single (2'55") track Particles 2 – but I don't doubt that there will be much more to come in the (near?) future. Let's hope so.