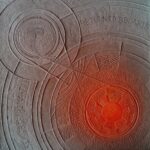 Instead of re-introducing Kevin Richard Martin, I'll simply refer to my recommendation of his highly personal album Sirens in 2019. It suffices to say that Martin has definitely earned his musical spurs – just think The Bug, King Midas Sound, or Techno Animal. On the albums under his own name, his music is much more restrained than you might expect hearing these references.
Return To Solaris is a 2-LP (or digital) album presented with beautiful cover artwork (please enlarge). This project came to life when the Vooruit in Gent, Belgium, invited Martin to compose a new score for a film of his choice. For Martin that could have been no other film than Tarkovsky's Solaris from 1972. Quite a bold choice, because Solaris is an acclaimed masterpiece of cinematic history.
Not only because of the movie itself but also because of its soundtrack by Eduard Artemyev. One does not simply reinterpret classics like this without taking a big risk! But Kevin Richard Martin is not just any old person trying, as is proven by this stunning soundtrack.
For the sounds he had in mind, he "mined his analogue lab for suitable instruments and recording equipment, favouring antiquated, hands-on hardware over computer-based production techniques – even acquiring an original Pulsar 23 drum machine, created by cult Russian synth builders SOMA Laboratory."

The result can easily be enjoyed in its own rights, but it helps having seen Tarkovsky's original movie. Martin slowly builds up the tension to re-create the "narrative struggle between organic, pastoral memories of a lost past, and the harsh, dystopian realities of a futuristic hell". With this album, he follows the movie plot quite literally.

It may be cinematic blasphemy to replace the original Artemyev score, but still, I'd like to see how Kevin Richard Martin's interpretation would work together with the original Solaris footage.
---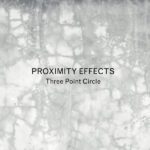 Palace of Lights is the label that K. (Kerry) Leimer started in 1980 with the release of his album Closed System Potentials. The label went in hibernation in the mid-80s, but was resurrected in 2016 to (re-)release old and new albums.
With only a few exceptions, the label focuses on releasing music of four main artists: K. Leimer (obviously), Marc Barreca, Steve Peters, and Gregory Taylor (who is not part of this trio).

Leimer, Barreca, and Peters have known each other since they first performed together in 1980. But they only called themselves Three Point Circle with the release of Layered Contingencies in 2020.
Proximity Effects continues their collaboration with a generous 74-minute release featuring 5 long-form pieces "obscuring individual contributions into an integrated collective compositional voice" – the first of which, by the way, is named Layered Contingencies.
Overall, this is a consistent album full of immersive ambient music. But if you listen attentively, you'll find that there is a lot of movement going on in the complexly layered soundscapes.
Play a track like Illinear quiet and the sound is relaxing enough, but play it on a loud volume to experience it as almost physical 'power ambient'. It's not often that I heard music that combines these two aspects at the same time, it's mostly one or the other.
The Commonplace introduces a hammering sound that seems to refer to a gamelan orchestra – I wouldn't have been surprised if Gregory Taylor was introduced here to turn the trio into a quartet (but he isn't).
Exquisite feels a bit more restless and abstract, but in the concluding Wet Pattern the music gradually returns to a quiet rest.
Palace Of Light has no tradition of putting their releases on Bandcamp – this release can be bought from Midheaven or from Boomkat.
Three Point Circle – Wet Pattern