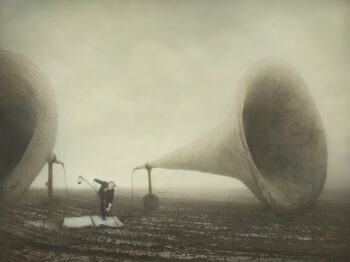 Joseph Aleo started his SoundWave podcast series as a way of "coping with the stress and isolation of life under COVID-19":

"Ambient, classical, experimental and instrumental music was the only thing that was speaking the truth of my new life whereas pop music, tv shows, and movies seemed particularly vapid."

The (weekly) podcast series has seen 52 editions until now, featuring many known and unknown contributors. Among the more familiar names, you'll find Robert Rich, Dronny Darko, DJ Food, ProtoU, OfftheSky, Less Bells, Rhucle, and (last week) Robin 'Scanner' Rimbaud.
It's my 'honour' to open the second year of this series with my contribution. We can of course only hope that the series will continue for musical reasons, and not because of the pandemic.
Clicking through the list of contributions you'll find that most of them are what I call 'mixtape-style' compilations: a 'head-tail'-mix of (full) tracks. Traditionally, my (Ambientblog) mixes are different (which does not mean necessarily 'better', by the way) in that they incorporate many sampled parts of tracks (a full-length track is either an exception or a very short track itself), mixed in a layered collage-style. I always try to shuffle the fragments of the collage in a way that they seem to melt together and thus start telling a different story.
Whether this is successful or not can only be determined by the listener.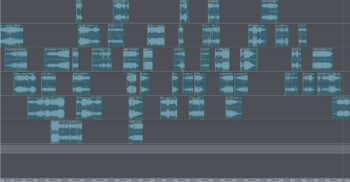 This mix is simply named after the podcast itself: SoundWave. It is a happy coincidence that it literally starts with 'waves' – sonically manipulated by Jos Smolders – and ends with the same waves morphing into the sound of a cheering crowd.

Different kinds of soundwaves are all around us, every moment. Sometimes we're aware, most of the time we are not. This mix (hopefully) shows that it can be rewarding to take a moment's rest to really listen and let the sounds affect you.
Thanks to Joseph Aleo for inviting me!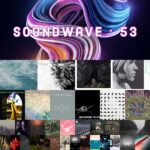 Tracklist:
Start time Sample length Artist – Title
Album Title, Year, Label
00:00 02:41 Jos Smolders – Plate 7
Submerge – Emerge, 2021, Crónica
00:45 02:06 Mia Zabelka & IcosTech – The Final Stop
Aftershock, 2021, Subcontinental Records
02:18 02:47 Robert Scott Thompson – Still The Syllables Of Water Whisper
Escapology, 2021, Somewhere Cold Records
04:40 02:57 Charley van Veldhoven & Túrion – Hemellichaam IV (Henrik Meierkord Recycle)
Sustain Series, Vol. 1, 2020, Ambientologist
07:00 02:08 FM Einheit & Susie Green – Joyful Pleasure
Exhibition Of A Dream, 2021, Cold Spring
07:30 04:04 Joey Largent – Below Diorite Waters
Below Diorite Waters, 2021, Dragon's Eye Recordings
10:07 03:21 Barbara Ellison – De Auflaan de Pussychat
Cybersongs, 2021, Unsounds
12:21 04:45 Jana Winderen – The Listener
The Listener, 2016, Ash International
15:38 03:22 Grace Ferguson – Barnumbirr
Voler, 2020, Music Company
18:27 02:47 C-Drik – An Imaginary Place Inhabited By Those Who Are Asleep
To Yemen With Love, 2020, Not on label
19:16 02:14 James Osland & Finn Kelvin – Things That Have Form Will Always Disappear
Don't Worry, I'm With You, 2021, Whitelabrecs
21:02 01:16 Daniel Thomas Freeman – Crawling Out Of The Void
The Silence After Life, 2020, self-released
21:37 01:34 William Basinski – For Whom The Bell Tolls
Lamentations, 2020, Temporary Residence Ltd.
22:33 02:56 Morgen Würde – Mittsommer
Pop Ambient 2021, 2021, Kompakt
24:28 01:16 Biosphere – Stordjupta
The Senja Recordings, 2019, Biophon Records
25:10 02:46 Randal Collier-Ford – Eyes Of The Temple (feat. Northumbria)
Advent, 2020, Cryo Chamber
27:25 03:00 Merope – Alma
Salos, 2021, Granvat
29:41 02:34 Space Whisper – Park Date
Presence, 2021, Amity Recordings
31:13 03:44 Innesti – Dark Describes An Arc
Parenthetical, 2020, self-released
34:17 01:01 Joost Lijbaart – Twinkling Night
Free, 2020, Challenge Records
34:32 02:50 Pinkcourtesyphone – Another Interior
Leaving Everything To Be Desired, 2020, room40
36:13 01:42 F5Point6 – Natural Selection
Shade Rather Than Light Anthology One, 2021, See Blue Audio
37:33 03:54 Andrew Heath – I Sleep Above The Forest
A Trace Of Phosphor, 2020, Disco Gecko
40:04 03:48 Lustmord – Journey Of The Dead Man
Trinity, 2020, self-released
42:26 03:09 Bow Quintet feat. Aidan Baker – Bryanbaum Variation
String Layers, 2020, 7K!
44:40 02:30 Aase Frejadóttir – Saying It
Music For Drifting, 2020, Editions Verde
47:10 02:10 James Rushford – Musica Callada, Book I – Angelico
Musica Callada / See The Welkter, 2020, Unseen Worlds
48:51 02:03 Nick Luscombe – Tokyo Spring Birdsong
Fieldwave Vol. 1, 2020, Nonclassical
49:52 01:39 Akropolis Reed Quintet – Homage To Paradise Valley – I. Ghosts Of Black Bot
Ghost Light, 2021, New Focus Recordings
51:01 01:25 Kate Carr – I Spotted Some Backyard Dancing
Overheard In Doi Saket, 2014, 3Leaves
51:43 02:06 Olivier Alary – Khaltoum
Fiction / Non-Fiction, 2016, 130701
53:23 03:31 Kazuya Nagaya – the Book Of Sunken Memory
Dream interpretation, 2020, !K7 Records
56:01 02:12 Jos Smolders – Plate 5
Submerge – Emerge, 2021, Crónica
57:00 02:50 A Winged Victory For The Sullen – Every Solstice & Equinox
Invisible Cities / Le Città Invisibili, 2021, Artificial Pine Arch Manufacturing
Download SoundWave now 137Mb (59:50 min.)
[Alternative download from Archive.org]
[Surround-version (DTS.wav or *.wma) here]
OR: Listen on Mixcloud, Spotify or iTunes: