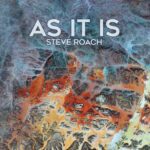 Inspired by the German electronic scene (Klaus Schulze, Tangerine Dream) and Vangelis, Steve Roach bought his first synth when he was 20 and debuted in 1982 with his first album. He proved to be a very prolific artist: his discography now boasts more than 160 albums. His work has a distinctly recognizable sound: a lush, full production, often connected to the landscape where he lives (the Sonoran desert just outside Tucson, Arizona). Maybe we could even spreak of a specific genre-sound which he shares with artists like Robert Rich, Jorge Reyes and Michael Stearns.
As It Is is described as "a spacious album of organic analog electronic music with a breath and heartbeat – a simmering, churning, moving appointment with reality. A bold step deeper into the time- and space-altering realms Steve has pioneered over all these many decades".
With the exception of the 6:16″ track Tears For Time, all tracks are well over ten minutes, taking their time to explore "the psychology of sound: expanded consciousness creating meaning out of sonic abstraction."
"What becomes of us after we've stripped away the familiar. Where does your psyche go? How do you work with what remains after much that you relied on as reality falls away?"
It's up to you to find out.
---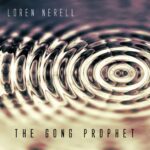 The Gong Prophet could easily refer to Loren Nerell and his work: ever since the mid 80s he has incorporated the sounds of the Balinese Gamelan orchestra in his work.
It was Tangerine Dream's Rubycon album that got him interested in electronic music, but he also studied Balinese gamelan music and the microtonal music of Harry Partch, along with his study of analog synthesis.
All the things he learned in over 35 years can be heard in the music on The Gong Prophet, "a hybrid of traditional Indonesian infused ethno ambient".
Clearly with the Gong – the Asian symbol of mysticism, good fortune, mastery and tradition – as the main instrument.
Quite a few guests appear to contribute to this album: Markus Reuter, Mark Seelig, Erik Wøllo, Forrest Fang, and Steve Roach (among others). The Gong Prophet is released on Steve Roach's Soundquest Music label.