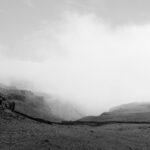 It still remains a mystery who is behind Craven Faults. There's only a vague reference to "post-industrial Yorkshire", where the music is recorded in an old textile mill, and that's it.

Enclosures is the follow-up of Erratics & Unconformities, which was also released on the Leaf label. Apart from the two albums on Leaf, there's the 'Works'-series: EP-releases that all have the duration of a full album, and a live set called Live Works.
Enclosures is also called a 'mini-album', but the total length of the three tracks is 36'20", so it may as well be called a full album.
Doubler Stones kicks off with a fresh rhythm and hypnotizing synth loops. Hard Level Force is also beat-driven but dissolves into siren-like sounds near the end. Weets Gate, with its 17'17" the longest track of the set, cools down the pace somewhat with its slow repeating organ loop slowly involving more embellished synth sequences and thundering low accents.

The references to post-industrial landscapes and " a focus on how human 'progress' has impacted and shaped the landscape" may suggest bleak and desolate landscapes, but to me Enclosures sounds as fresh as the air in Spring. A unique and fresh approach we don't get to hear too often.

Released in November 2020 in various editions (blue vinyl, black vinyl, grey vinyl, special edition with turntable mat), Enclosures quickly sold out. Luckily, Leaf decided to release a second edition (black vinyl only, and download) that will be available from April 2021.
---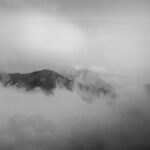 N (93) + DEEP – ABRAXAS
Both covers may be alike, but the music could hardly be more different.
Abraxas is a live performance recording of guitarist N (Hellmut Neidhardt) (who increments the number after the N with every new release, hence the 93) and electric bass guitar duo Deep (Bernd Spring and Stefan Vetter).

This 35-minute set is a recorded performance at Augsburg's Abraxas Art Centre on the Re:Flexions sound-art festival in July 2020. For this release, the recording is split into two 17-minute parts – the perfect length for a dynamic vinyl cut of course, but in fact it should best heard in one single go.

Guitar and bass are the barely recognizable sources of deep extended drones, slowly working to an intimidating climax and then relaxing again, just as slowly. Only to return even more intense in the middle of the second part.
"If you thought "relaxing ambient" at first, now think Tony Conrad or Phill Niblock. The sound becomes a gently rising tide which eventually turns into a tsunami carrying everything with it."
I guess that this must have been quite a physical experience that night!

The vinyl edition of Abraxas, released on Attenuation Circuit, is printed on 'cloudburst' coloured vinyl and comes with an A1 poster and festival flyer. It's limited to 100 copies.