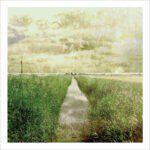 SIMON SCOTT – APART
Simon Scott is probably best known as Slowdive's drummer. But apart from that he also released quite a few (ambient) music albums under his own name, on labels such as Miasmah, Slaapwel, Touch, and 12k.

Apart has a particularly sad, yet also resigned undertone: it documents the process of grief after Scott's father died from Covid-19 in April 2020.
Hearing "vocalisation of skylarks" in New Decoy, a nature reserve in the Fens which he visited with his father in the early 80's, "augmented my profound sense of loss".
This is reflected with the sound of the singing skylarks: "the audition of the skylarks raised multiple temporalities in my consciousness, and connected the bird song to the death of my father through phenomenological turmoil."

Wanting to document this experience recorded the birds singing, and later completed the recording with underwater recordings and an electronically manipulated piano piece.
The result is an album with heartfelt sonic images of the emotions, the grief, and "clinging to a world already gone" Simon Scott experienced after losing his father.
---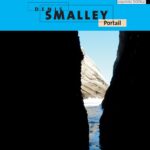 DENNIS SMALLEY – PORTAIL
Portail is released on the Empreintes Digitales label, which means you're about to embark on some mind-boggling electroacoustic soundscapes. Such is definitely the case on this release, even though the music presented here may be somewhat more accessible than other releases on the label.
Dennis Smalley (b. 1946) is a veteran of the electro-acoustic music scene. He studied in Olivier Messiaen's composition class in Paris and took the electroacoustic music course run by the GRM (Groupe de Recherches Musicales). Initially, he worked with tape, but in the early 80's he switched to using computer software. A true pioneer of electroacoustic music, its practice ánd its theory.
Portail is Smalley's third release (on Empreinted Digitales) after a 20-year 'pause'. It presents recent multichannel works: Fabrezan Preludes (2015-2016) and Sommeil de Rameau (2014-15). Both were originally composed for 8-channels (oh man, I wish … don't get me started…), but are converted to stereo ambisonics for this release (by Jonty Harrison) – so headphone listening is recommended.
Also included is one of his earliest compositions: The Pulses of Time (1978), which, by the way, is quite different from the previous two compositions.

In the two recent works, some titles refer to classical composers: Sommeil de Rameau ('Rameau's Sleep'), of course, and also Debussy's Cathedral, directly referring to Debussy's La Cathédrale Englouti (The Submerged Cathedral).
The last title alone made me think of the reinterpretation of this piece by Isao Tomita on his 1974 debut album Snowflakes Are Dancing. And from there I realized there were similarities in the approach of this material (which can best be heard in Sommeil de Rameau), even when there are fundamental differences too. Unlike Tomita, Smalley doesn't aim to meticulously re-create the classical score: his compositions are entirely his own. And I assume that the techniques used to create this music are also completely different.

But in taking "the transformation and development of a pair of resonant chords from Debussy's piano prelude", or when "drawing on characteristics of the sleep scene in French Baroque stage works and cantatas, which first occurred in a comédie-ballet by Molière and Lully the homage to Jean-Philippe Rameau", Smalley uses the same washes of 'engulfing' sound to create his musical atmospheres.

A dreamlike atmosphere, for the most part: "When a sleep scene is invoked, a main character is exhorted to sleep, and dramatic action is suspended. The music may be solely instrumental, or may involve sung commentary, where, for example, the singers personify dreamed thoughts or suggest future courses of action. The musical style, with its slowish harmonic motion, undulating or rocking contours, and airy instrumentation (typically strings and flutes), is intended to create a contemplative atmosphere and a sense of timelessness."
DENNIS SMALLEY – FABREZAN PRELUDES 2: DEBUSSY'S CATHEDRAL