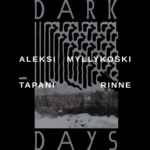 ALEKSI MYLLYKOSKI with TAPANI RINNE – DARK DAYS
Dark Days is the first release on a new label called Signature Dark. And it sure fits the label name very well with its dark, brooding jazz-noir atmosphere that is melancholic at the same time.
Signature Dark is founded by Aleksi Myllykoski, from Helsinki, Finland, who is also the one creating the electronic soundscapes to which Tapani Rinne adds his smooth and subtle saxophone playing. Both musicians were previously working together for more than a decade in the Finnish electro-jazz group Rinneradio.
To describe the atmosphere of this album with musical references, I'd say that it will definitely appeal to fans of Bohren und der Club Of Gore, or the Dale Cooper Quartet. Even when near the end of the album an uptempo jungle rhythm is suddenly introduced – maybe somewhat surprising after all that came before.
Or – maybe not thát surprising:

"After you have finished the album you will surely spot the connections to universal life cycle in its full diversity from depression and death to the beauty of rebirth and personal growth. The current state and challenges in our world, environment and society are inherently present as well."

It's dark, but not 'just' dark. Its setting is minimal, but not tóó minimal. It's melancholic, but not sentimental. It's beautiful.
---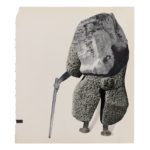 GOLDEN RETRIEVER AND CHUCK JOHNSON – RAIN SHADOW
Golden Retriever is the name of a duo from Portland, Oregon: bass clarinettist Jonathan Sielaff and synthesist Matt Carlson. Their music focuses "on the relationship of two primarily monophonic instruments (modular synth and bass clarinet", and "tries to erase their boundaries".
For this album, they worked together with Chuck Johnson from Oakland, California, a guitarist "approaching his work with an ear towards finding faults and instabilities that might reveal latent beauty, with a focus on pedal steel guitar and experimental electronics".

Rain Shadow presents four relatively long pieces (2 x 13 and 2 x 6 minutes) that were created entirely remotely, each part recorded at their home studios. But it is indeed as if the boundaries between the different instruments fade into one harmonious sound.

"Each piece moves with the ease and progression of a cloud formation – steady, imperceptible motion akin to a desert's wind eroding stones into new configurations."
In Sage Trasher, the third track of this album this 'desert wind' slowly turns into a raging storm in the second half of the track for that matter, but of course, the track title prepared us for that.

The result of the combined instrumentation for these slow-moving compositions is a sound not often heard in music like this. It is a 'natural' (as opposed to synthetic) sound – which may not be a surprise because Rain Shadow refers to the natural phenomenon "which leaves plains and shallow land just beyond mountain ranges desolate and dry". But "desolate and dry", however, are not the words I would choose to describe this album: I would rather choose words like refreshing and fertile.
---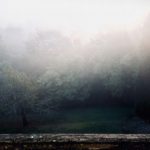 ROBIN SCHLOCHTERMEIER – SPECTRAL
I had not heard about Robin Schlochtermeier before, which is not too weird since his previous work was mainly composed for television, film and commercials (many of these can be found on his Bandcamp page).
He won the Best Music award on the British Independent Film Festival for his score for the psychological thriller Retreat and wrote the score for many other award-winning documentaries.
So when a label like Denovali releases a debut solo album by someone like this, it may be time to catch up.
Spectral is not a soundtrack album, although the music – unsurprisingly – has all the cinematic qualities of one.
When Robin Schlochtermeier became father, he "would often catch an amazed look on her face or notice that she stopped and stared at some small detail in her environment. […] The pieces on Spectral are attempts to capture some of this mysterious, nebulous spirit of bafflement and wonderment."

Apart from electronics and sound design, Schlochtermeier also used a British upright piano from the 1950's, "with original worn strings, which are occasionally dampened with poster putty". He deliberately kept a limited palette of sounds, "to create space and openness in the arrangements."

With 9 tracks in 33 minutes, Spectral is a relatively short album but a very satisfying listen.