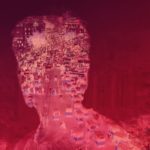 MAX RICHTER – VOICES
With incredible timing, Max Richter releases his follow-up to Sleep, the 8-hour project so perfectly executed that it must have been a hard one to follow-up. Voices emphasizes the importance of the Universal Declaration Of Human Rights, as defined in 1948, and now maybe of more importance than ever.

But this album is not born from current events. Richter started working on this project ten years ago, and the first performance at the Barbican was scheduled in February 2020: befóre the lockdown and befóre the rise of the BLM movement, which is all about universal human rights.

Now it may be more important than ever, but the universal human rights need to be guarded at any time, any place, because over and over again 'practice' and 'preach' are not the same thing.

For Voices, Max Richter crowd-sourced readings from the Universal Declaration from all over the world. He received hundreds of submissions in over 70 languages. Many of these are interwoven throughout the album, alongside the voice of Eleanor Roosevelt (reading the preamble in the opening All Human Beings) and the fragments read by actor Kiki Layne, "whose distinctive tones complement the choral, orchestral and electronic soundscape".
The interesting and more complex instrumentation may not be immediately clear to the casual listener. Richter scored Voices for an 'upside down orchestra', which "came out of this idea of the world being turned upside down, our sense of what's normal bering subverted". He scored the work for 12 double basses, 24 cellos, 6 violas, 8 violins and a harp, which is an unusual orchestral setting, joined by a 12-piece choir (not counting the voice-overs), a violin soloist, soprano and Richter himself on keyboards.
Musically, Voices uses composition techniques resembling Sleep, including the beautiful soprano voice of Grace Davidson. But of course, it has no intention to help you sleep – on the contrary: the world needs to wake up! Using voice-overs claims the listener's attention to the subject intentionally: there is no room for your own interpretation of the music.

On some the tracks, Richter dangerously balances on the border of sentimentality, or some may even find it kitschy. I can imagine that some listeners might experience some parts as 'tearjerkers'. But that, as always, is a matter of taste. This may be the exact musical format needed to get its important message across to a large worldwide audience.
Personally, I don't think there's anything wrong with heartfelt and honest sentiment – especially if it is scored in such a beautiful way.
Note that Voices is released in various formats, of which the 2CD version also includes the voiceless mixes.
---
I have always enjoyed Max Richter's Sleep intensely, and have no trouble at all listening to the entire eight hours in one go. There have been times that it accompanied my working days softly playing in the background.
However: playing it at night during sleep did not work well for me. Perhaps, the music is too beautiful, demanding attention (especially in the vocal sections), so I slept only lightly, waking up on every scene change. I haven't attended one of the full night's live performances of Sleep in person, but if I had, I'm sure I would have found it a waste to fall asleep to it and probably would have been up all night enjoying the performance.
Sleep, released in 2015, is a major worldwide success. It reached no.1 on many (classical) charts, is broadcast in its entirety on many radio stations (which is not exactly common for an 8-hour composition), and reached over 450 million streams already.
Seeing the way the composition was intended, an App version of this work is not a surprise. The Sleep App aims at the three most important uses of the work: Sleep, Meditate and Focus. If you choose Sleep, you set the time you want to wake up, and you'll be awakened gently by a slowly increasing 'wake-up drone'.
For Meditate and Focus, you'll set a fixed time and the app chooses a somewhat different selection from the entire composition.
If you reach your set goals, you can 'unlock further planets to expand your space' – though I do not know what this actually means because I haven't been able to use the app long enough to find out what happens: maybe you unlock some of the 'exclusive new sequences'.
The first remarkable thing is that the App is a free download on Android as well as Apple. There are no in-app sales either: no hidden costs involved. Great! The business model behind it reveals as soon as you start it: it needs a connection to Spotify or Apple Music and fetches the music from there. Clever thinking, this: it means that the fragments are all streamed from Spotify, adding to the play count and thus generating some extra income – especially when you leave it on for a full night or working day!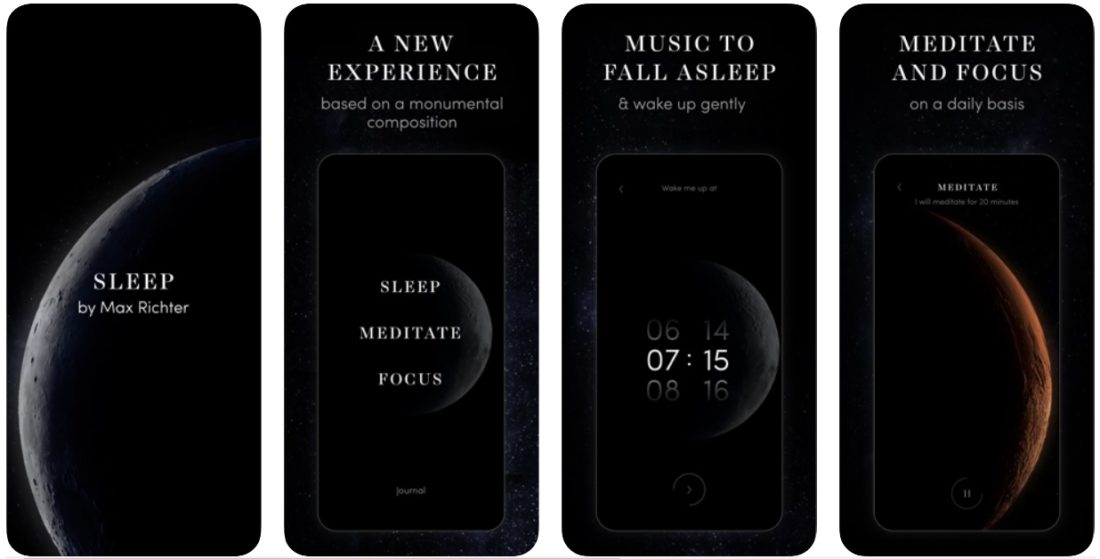 However much I like the concept and appearance of this app, I was quite disappointed when I started it and this is why I cannot heartily recommend it at this time. At least, for Android users.

First: permissions. Why does it ask for access to my storage (photo's etc)? Not a dealbreaker, perhaps, but it's a good habit to check every app's permissions and set them to your wishes.

Second, and more important: I could find no 'Cast option' to send the sound to external speakers. I definitely don't want to listen to music like this on phone-speakers or sleep with a headset. There may be other ways to use external speakers, sure, but this could've been made more simple.

But what bothers me the most, is that the App snaps out of playing at seemingly random moments, perhaps when something happens in the background. It simply ends with its 'wake-up drone'. This way, I have not been able to complete a sleep, meditate, of focus session for more than 10 minutes. I don't know what causes this, but I really hope this will be fixed soon!

Apple users may not experience these issues, I don't know. Maybe it's just my particular phone behaviour (Samsung A40 with Android 10). Other users may have different experiences, so please let me know (comments are welcome).

Android version
Apple version
[total: 1,010 - today: 1]