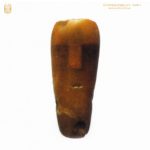 STEPHEN O'MALLEY – GÉANTE 4
Those who primarily know Stephen O'Malley from his work with Sunn O))) may be in for a surprise. No dark, guitar-based, ear-shattering drones here (although it ís a drone piece), but a subtle performance by the Eye Music ensemble that works on any volume you prefer.

Eye Music combines electric as well as acoustic instruments into a unique sound: electric guitar, flute, bowed stringboard with metal slide, cello, synthesizer, trombone, field organ and harmonium. The result sounds like both an orchestral ensemble and electronics at the same time.
In their performances, Eye Music focuses on graphic scores (visual information rather than standard notation), which often allow for a certain amount of openness in interpretation.

Géante 4 is a graphically scored piece that was written for Stuart Dempster (the trombone player in this ensemble).
Unfortunately, the graphical score itself is not included, but the instructions are like this:
"The arrows up or down indicate a slow glissando from the end of one section to the beginning of the next. The squiggly lines indicate a fade out or in. Each "section" would be ca. 2 minutes plus, based upon an overall timing of 10-12 minutes."

Here, the composition is presented in two 12'41" versions: a 4 layer mix and a 5 layer mix. Both versions have a somewhat different impact, because of the way the immersive sustained drone interacts with the tension coming from the unexpected glissandos.

With 24 minutes, Géante 4 is a short album. I would love to compare these versions with the "90 minute version with 2 double bass, a haldorophone, piano and sine wave/tape" that was performed earlier.
Who knows what the future may bring… but for now, I'll simply put this (digital only) release on repeat.
Stephen O'Malley – Géante 4 (ambientblog preview edit)
---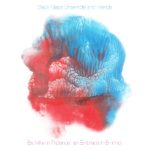 Have you ever wondered if – and how – 104 musicians that were never in the same room at the same time can still sound as one large tight orchestra performing one continuous composition? Well: here's your chance to experience it!

Initially, the Black Glass Ensemble (8 musicians with guest Colin Potter) intended to perform live in May 2020 at the Queen's Hall in Edinburgh. The performance was canceled, future plans were put on hold. All players then recorded small fragments in their own private lockdown isolation which were merged together into one short composition by Michael Begg. All fragments in B Minor, "a musical key associated with patience and solitude."
But that was not the end of the project – neither for the lockdown nor for the composition. The ensemble invited other musicians to send in fragments of pieces in B Minor, which led to a response of 247 tracks by 104 musicians. Too many names to repeat here, but check the Bandcamp page for a full list of contributors!
Michael Begg did an incredible job in arranging and mixing these fragments together into a 38'50" composition that is exciting from the beginning to its very end.

According to Wikipedia the opinions about B Minor in the 18th century were mixed: while Schubart regarded it as a key "expressing a quiet acceptance of fate and very gentle complaint", a few years later Galeazzi thought "it was not suitable for music in good taste."

I guess Galeazzi lost his case in this particular argument. But you can decide for yourself: this extraordinary project can be downloaded for free, in the hope that "it may help in some way to nurture strength, fortitude and comfort."
---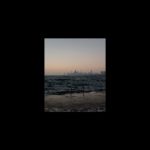 Michael Vallera is a Chicago-based musician and visual artist. Window In is the third full length album on the Denovali label, the follow up of Vivid Flu (2017) and All Perfect Days (2018).
With the electric guitar as his (barely recognizable) main instrument, Vallera creates four soundscapes, altering and manipulating the sound in such a way that it cannot be "traced back to its origin".

"The result is a series of vignettes that are unattached to a particular source but instead exist in an emotive and internal state."

It's not exactly 'drone' music, because there are many sudden mood changes. Some of the works (such as Deep Sleeping Exit) can be called 'ambient', but there are also some rather intense moments (Hours). The end result of all Vallera's manipulations is a sound with so many layers that it somehow reflects what the listener projects into it. The sound is like a mirror. Or a 'window in'.